Pauline Roland's illustrated FML
Hello everyone! So, have you gotten over being pranked left, right and centre by all the April Fool's tricks this week? Ready to fill your boots with Easter chocolate? FML is. April Fool's Day was tense for us, but it all went well, and people enjoyed it. I was tempted to carry on the prank with a fake illustrated FML, that I would've created myself. But that would've been a step too far. And a little too obvious, because I still draw like someone whose hands are being attacked by pissed-off wasps. But before we go pig out on Easter chocolate, we're going to welcome someone who draws better than me, and who's looked at the problem of society's impossible beauty standards that the patriarchy, and the way consumerism has taken over our pursuit of spiritual enlightenment, replacing it with the pursuit of superficial perfection, a concept that doesn't really exist, and the whole endeavour is dragging us collectively down into a giant depression, frustrating people who can't even do… Oh sorry, wrong meeting. This week is all about big butts and thighs! Let's get cracking!
PAULINE ROLAND'S ILLUSTRATED FML
"I used to have POLET' as a nickname for work, but my dad badgered me so much about it that I changed it, because I got the impression he was going to disown me."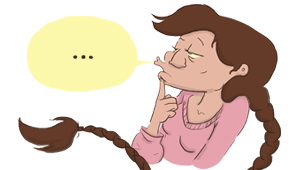 Self-portrait Pauline by Pauline Roland



This week it's Pauline's turn. It's her first time on FML, so be gentle.

Her info:
Age: 27
Location: Port-la-Nouvelle, France
Blog: Her blog and her website
Her illustrated FML: The one with the vacuum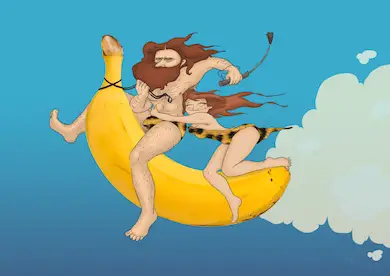 Once more, we are in the presence of rare, intriguing talent. Pauline contacted us directly after reading in our FAQ that all she had to do to take part in the illustrated FMLs was to send us an e-mail. OK, her work was pretty impressive, so we said yes. We do sometimes get some pretty bad artwork sent in, but that's very rare and we're always encouraging and kind. Anyway, we checked out Pauline's work and we like it, so here we are, she's done an illustration for us.

On the other hand, when asked what she gets up to, she honestly replies, "Well, I draw. I've always had the reputation of a "dick illustrator". I don't know why, you tell me. Yes, I'll admit it, most of the time, a lot of my drawings are about sex. But my clients don't always like dicks and jokes, so I have to make serious illustrations on the side." I have the same problem in most areas of my life, in that everything ends up being related to my knob and what I can do with it. I think I'm going to start taking bromide. "I animate too, and not meetings at the local youth club. I direct and illustrate 2D animation films. That's my real job."
She really loves her life, no doubt about it: "I think I'm becoming more and more addicted to making people laugh with my illustrations. Even if I've always done so, without realising it. Today, my little brain is beginning to understand the power that you have over people when you know how to draw and you've got a sense of humour. What I like to do is to work in my pyjamas (I work freelance so I work from home). It sounds like I don't work much, but actually I do! When you're happy, you're more productive, which I am."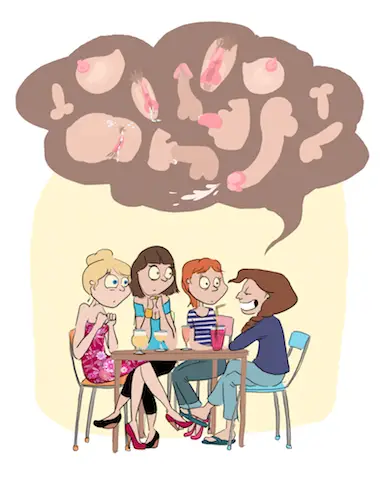 Do you have anything to promote, any projects? "I'm currently making a 2D animated clip for a singer called Lakolyn, which should be released at the start of the summer I hope. I'm also making an animated movie with children which should also be out this summer." As for her projects, she wants to "invest herself totally in drawing to hope to release one, or several comic books. I've had a million ideas in my head for over a year. But unfortunately, I need to find the time. I also need to find the time to stop biting my fingernails and have real girl's hands, like ones belonging to girls who get manicures." Ah yes, time, the thing that everyone seems to be lacking. And a few of us switched to daylight savings time last Sunday, so we "lost" an hour. Which means nothing, stop saying it!

How did you get started? Was there something or someone who inspired you to pick up a pencil? "Well now, there's so many people who inspired me… When I was little, I loved the works of Claude Ponti, Franquin, but also (sorry it's true) Reiser and Wolinski. They were like my own porn mags to tell you the truth, in that I'd hide under my bed, under the covers at night to read them. This is why I feel the need to draw dicks all the time I guess. Afterwards, I was struck by a comic strip called "Strange little zoo" that was printed at the back of a newspaper my grandparents bought during the holidays. If was very funny, without text. I'd cut them out to keep. If I bought the same newspaper tomorrow, I'm sure the comic strip would still be there."

So, do you have a personal FML to add to the newspaper? "Once, I was getting tired of driving round in circles in my neighbourhood for ages looking for a parking space, so I'd started ignoring the "Give way" signs, and sometimes the "Stop" signs, that I'd been by 150 times. Until I made a car brake dangerously. It was close enough for me to read on it in big letters, "POLICE". Or another time, I ate dog biscuits without realising, and I finished the whole box. And I thought they were very nice."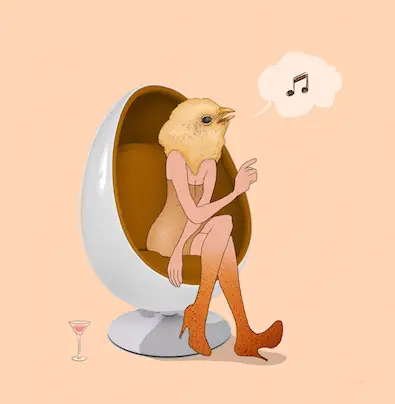 What do you enjoy in life? "Besides drawing, I like going out fishing for clams, picking thyme and rosemary (yep, it's free near where I live), watching the pink flamingoes, getting my ass suntanned while reading a magazine for pre-menopausal women, eating oysters in the sun on New Year's Eve, falling asleep in front of a documentary about the middle ages, dreaming of living in the USA… The only thing which gets on my nerves is that I have to drive for at least 30 minutes from my house to get to the nearest sushi place." Oh, sounds like a real Fox News No-Go zone where you live. The artists she likes are : "Pacco/Motin, Chimulus, Geluck, Sfar, jean Lecointre, Banksy, Bill Plympton, Large et Ubs." She's also like most of us, she likes movies and music (Interstellar was a big surprise and she likes to dance to old funk records), and she has a valid opinion on TV shows: "I don't really watch many TV shows. Except if David Hasselhoff is in them." I can agree with that. "As for the rest, unfortunately, I've got the I-get-bored-when-I-read syndrome which is really bad (I swear I'd love to be able to carry a book around every day and I love libraries)." Interesting. When I go to someone's home and that they don't have any books (and I mean real books, not 50 shades of shite), I get suspicious. But I'm an elitist snob, so what do I know?
Hey Pauline, got any advice for someone who wants to start out in drawing and stuff? "'So, what's your real job?' Haha, sorry, I'm kidding. First thing to do is find your own style. Then, find out what's good to put across in your world. See what the majority of people around you like, starting with your friends. If friends of friends start to like what you're doing, that's a good sign. Always keep in mind while creating that, "Hey, I haven't seen anyone else do this." Always stay on course to stay different from the rest. But don't be afraid to be inspired by others to help your drawing evolve… Of course, always enjoy yourself, let loose, try new techniques, new colours, new subjects, never stop yourself from drawing a particular topic, even if it seems stupid and useless. Think your drawings are rubbish but never throw them away. NEVER buy super expensive equipment when starting out, like, if you think you have to buy the latest Cintiq because it's cool and that you need it, well, you've missed the point. I'm not sure if I've motivated anyone, but there you go." No, it was a great response. Now I'm taking my Cintiq back to the shop, I only used it to as a tea tray anyway.
There, that's it for this week. Thanks Pauline for taking part in all this. Now I'm going to lie down in a dark room because April Fool's exhausted my brainbox. I think I'm going to stick a Brian Eno record on and wait for some sort of calm to come back over me. Breathe in. Breathe out. Breathe… Or I can just go out, have a few pints with friends and talk shite. It's Easter weekend so it's time to eat chocolate left by a giant bunny rabbit to celebrate Jesus coming back to life. Seems legit. In any case, enjoy your weekend, be excellent to each other and see you next week.

As always, if you think you've got talent and want to contribute to the illustrated FML, send us an email to [email protected] but only send us your blog's address and a few samples of your work. No need to create an illustrated FML straight away!
#1511 - Illustrated FML - On 04/02/2015 at 10:53am by Alan - 5 comments