OK jkjk it was FMLS April Fools

Yah its know over, ive stoppd wrotting… Sorry, I'll try again.

There, it's over, I can stop typing TXT language with my forehead. Yes, you probably cottened on that it was our little April Fool's joke, and we had a lot of fun putting it together. It was quite the Michael Bay production, the artistic direction was perfectly executed, just what was required to pay tribute to our many friends who have quite a freestyle approach to spelling, grammar and words in general. It was an automated system, run on a 1984 Commodore 64, so to answer the question we got many times, no, we don't have to manually correct all the FMLs now. Some amongst us didn't like the idea. I'm guessing these guys need to find hats to eat, because the joke worked fantastically for most users!

Now, a lot of the time, a few people go nuts when a word appears on FML that they feel doesn't meet their standards (I'm talking of the people like those who still haven't grasped that "realise" and "realize" are both correct spellings of the same word), and some others think that the Illuminati are behind the introduction of new words like "selfie" into the collective subconcious, but language is constantly evolving, there's no stopping it. But boy, were we not expecting you guys to hyperventilate so much over an April Fool's Day joke!

Some responses were downright angry, the joke going right over their heads:
"I am wondering why your site's grammar has suddenly turned to shit. Posts I read just yesterday have now changed my to mah and other such translation errors from foreign posts. One I just read was so ridiculous I could barely understand it. I'm just wondering when this new trend started and why you would make your well established site look like a 4 year old moderates it?"
Or they wrote in, with a chip on their shoulder from being stuck on planet Nofun :
"Might want to check your spelling as it is atrocious. Seeing as how I'm not going to get a straight response from you, i suppose you think this is pretty funny. And as it is April 1st, i say kudos on the joke. Can you change it back or are you waiting to get every FML viewer to be unable to make any sense of it until tomorrow?"
Some were confused, and sent in confusing e-mails:
"I open that app and usually can understand every post and today they don't make sense at all. what happen? They aren't spelled right and they don't make sense. please fix I don't want to delete the app."
"its likebthe words are turned into ganster words."
Others were just sad people who don't enjoy life being fun, like EnglishMajorBuzzkill here: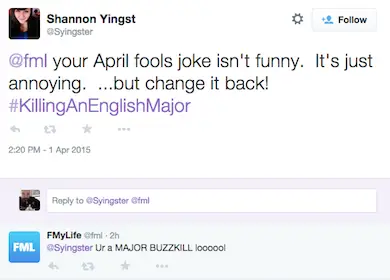 And of course, we got insults from people working out their anger issues instead of looking at a calendar:
"I'm not sure why you felt the need to change your page, but its awful, and I absolutely hate it. I used to read your page every day, and now I dont think I ever will again. For days I couldn't find the recent stories, and now all the posts look like 5years wrote it. It literally hurt my brain. No love or compliments. The page sucks now, sorry not sorry."
Thankfully, most people enjoyed the joke, when they got it. But it wasn't easy to get the message across, even when we had to spell it out for them. Yes, we actually tried pointing out that they should look at a calendar. And they still didn't cotton on. It was like talking to the fucking Matrix or something. But it was all in good fun, no harm done. Some egos got ruffled along the way, but the general reaction was an all-round gut laugh, with some nice messages like this one:
"That was pretty good. I thought I went brain dead at first. I read the fmls before midnight (31st) then in the morning while getting ready for work I read the new ones and couldn't believe it. I went and looked at the ones I read before bed and thought "holy hell was I that tired I misread everything? I could have sworn it was normal!" Lol

Well played master trolls"
So who knows, maybe FML in 2307 will use a version of the English language that will have permutated to the point that it will ressemble the one we used and parodied for this year's April Fool's. FML has always been at the cutting edge. We are pioneers. Our moms said so.

That's enough TXTing. Or is it?

Some people think that breviety is the soul of wit, meaning that you shouldn't flog a dead horse. Or a joke shouldn't hang around too long, basically. But when one was as good as our April Fool's one, we should be able to keep it for posterity. So, to enjoy it again, or for those of you who missed it the first time around, here's a TXT-generator for FML, just click on this link:

I want to TXT-up FML's homepage!

There we go. We hope you enjoyed this little joke as much as we did, but we're going to go back to a more orthodox spelling/grammar combo, one that doesn't hurt our eyes so much. 2307 can wait, eh.
#1510 - About FMyLife - On 03/30/2015 at 4:54am by Alan - 147 comments