Sophie Marie's illustrated FML
Hi there Friday, great to see you again! What are we going to talk about this week? It's the same question that most people ask themselves while strolling into their usual bar on a Friday night, on their way to a boozy night with their friends. It's also pretty nice to get home on a Friday night after a hard week at the factory, stripping off the blue overalls and forgetting all about making yoghurt pots while watching coloured dots move from one side of the TV screen to another. A lot of things have happened this week. Pollution has pumped shite into our earholes, Y has left the boyband X (I'm using X and Y in case someone is reading this 10 years from now, the names from 2015 will mean nothing to anyone by then), and I found a coin in the street. What a week! So, what do we want right now? A nice hot bath of course.
SOPHIE MARIE'S ILLUSTRATED FML
"I love candy, they're where I get my energy from! As for biscuits, as long as chocolate is involved, I'm fine. Any vices? Candy, of course!"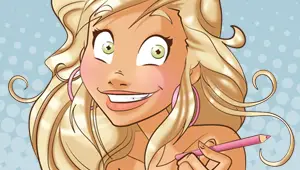 Self portrait Sophie by Sophie Marie



Sophie Marie isn't a first name or a nickname. It's her name and surname. I was confused at first. More on that later, let's check out her stats.

Her info:
Age: Quarter to 33.
Location: Chambéry, France
Blog: Her website or check her out on Facebook
Her illustrated FML: The one with the bath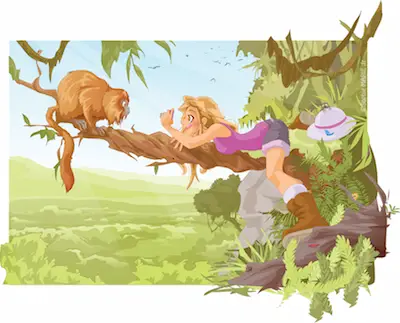 Initially, I thought I'd received a personal e-mail. When I saw that I'd been contacted by "Sophie Marie", I thought that I'd got an e-mail from the wonderful Sophie-Marie Larrouy who I've mentioned recently. I nervously clicked on the link, hoping that it was at least a proposal to go out on a date to eat a some cheeseburgers, or in some sort of utopia, she would be inviting me to meet her parents and go running down a hill, but not at all. But I'm not saying that I was disappointed, far from it. This Sophie Marie is a heck of an artist. I've rarely seen such confidence in the way the drawings are put together, and all done with great taste. Her illustrated FML was practically finished as well when she wrote in, so we just had to iron out a few things and hey presto, here it is. So, who is this person? Let's find out.
Who are you and why are you in my garden? "Well, I can safely say that I spend most of my time drawing! Either for myself or to order. What's left of my free time, besides the inevitable chores like cooking, housework, washing and all the rest, I go walking, I do DIY, decorating, I take care of my invasive 3 cats, my place and my family. But generally everything relates to my computer, my stylus or the pencil in my hand!" And she enjoys it, of course. If I had her talent, I'd be constantly showing off, but she's not like that : "I just like the fact that my job is 100% compatible with myself, my personality, my days, being my own boss. What do I need? Knowing I'll always have contracts. That's the dark side of being freelance, you never know what the coming months are going to be like, it's quite stressful." The pros and cons of being your own boss sound pretty tough, I don't know if I could do it. I start to panic if there's only two bottle of Pepsi Max left in the fridge, rather than the usual twelve.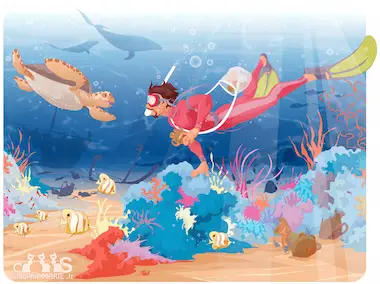 How did you start out? "I've always been very handy, even at a young age, and drawing was one of the activities I liked the most. I was told that my drawing style was unusual (I drew 3/4 profiles when most people drew people from the front, for example). So when people around you and your teachers compliment you on your pencil work, you're encouraged to do better! So, I've always drawn, to the point of doing nothing but drawing. When I was in high school I started to develop my own style, using manga characters from Dragon Ball as examples, then moving on to Michael Turner and his Witchblade comics to continue my apprenticeship. Then I discarded the models, and started to create my own characters, my avatar, etc."

And now, where are you heading? "I'm going to carry on having fun in the same way I've been having fun for the past 9 years! There isn't a project that attracts me more than another. I'm interested by everything, as long as I have fun." That's a great way to live your life. I apply the same philosophy to beer and psychotropes, but it's better to apply it to work. But Sophie, isn't there something you want to tell us about? "I don't have anything new to announce today! Go to my website, you'll find all my publications to date, and for those to come, I unfortunately can't say because they're a work in process or I don't have a release date." OK, we'll have to check out her website now and again. And she'll come and do another illustrated FML when she's got something to tell us.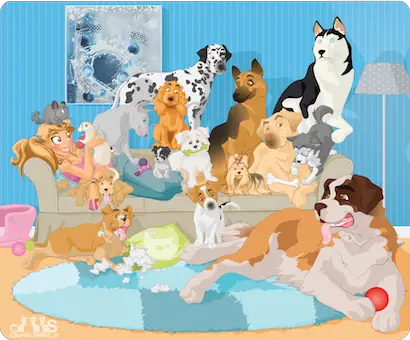 Besides drawing, what do you like? "I'm someone who likes the most simple things in life! If you want to give me a present? Give me some liquorice or a lollipop. I enjoy walking in the mountains, going shopping to empty my mind, eating pancakes in front of a good movie, watching my cats fight over a stupid plastic ball even though there are at least twenty more all over the apartment, eating a good fondue in the middle of summer just because I feel like it." I'm guessing that the fondue is the cheese one, seeing as she's from a mountainous area. I love that stuff. Can I come? And what about blogs, artists and all that jazz? "The first illustrator I liked was Maliki, who tells stories about their cats, so of course I was going to love it. I'm also a big fan of Emilie Decrock, who has a very "simple" drawing style. And it's always a pleasure to discover the new anecdotes by Clémence Perrault and Bérénice."

So, have you got some advice for someone starting out in illustrating? "Usually, someone who is starting out must have a whole lot of motivation right from the start, otherwise you're fucked! The only thing I can recommend and that will be useful to everyone: draw, draw, draw! Don't hesitate to copy stuff to learn muscles, human anatomy, body movements… You've got to hang in there, try everything, don't limit yourself and always listen to criticism from professionals, publishers or others and always ask the right questions! That's how you progress." Excellent answer, thanks!
Right, I think that'll do for this week. I'd like to thank Sophie from the bottom of my packet of Monster Munch. She'd given way more answers but I couldn't fit everything in. I'll save them for the director's cut! So, while we wait for the weekend to actually begin, remember that an FML can come from anywhere: don't count your eggs before they're in the basket. Be excellent to each other, and see you next week.

As always, if you think you've got talent and want to contribute to the illustrated FML, send us an email to [email protected] but only send us your blog's address and a few samples of your work. No need to create an illustrated FML straight away
#1509 - Illustrated FML - On 03/27/2015 at 11:23am by Alan - 12 comments