Sidonie's illustrated FML
Hi gang! In this week's edition, some pedalos, some kittens, a bunch of gypsy singers, some ponytails, a crooner, a house that looks like Hitler, a joke about George W. Bush's cocaine habit and a brilliant satire of the pharmaceutical industry! Nah, just kidding. This week we're taking a look at kids. No, not in a creepy way. More in a disapproving way, because kids can be evil little shits, and despite that, a lot of you people still insist on churning them out. And then we have to set our lives around your special snowflakes (don't make noise at night, there's a kid sleeping, don't make noise during the day, there's a kid… taking a nap. Put cotton wool in its ears, FFS). Oh, and there's the fact that kids are lying, manipulative psychopaths. I don't have actual facts to back this up, I'm only basing this on last Christmas when I stayed with my sister and her two demon-children. My niece could actually be the little girl in this week's illustrated FML. Intrigued? You should be.
SIDONIE'S ILLUSTRATED FML
"This may seem strange, but I've got a phobia of slugs. Whenever I see one, I start screaming and run away."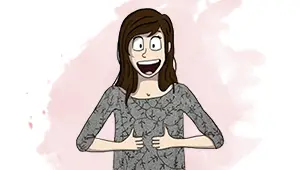 Self-portrait Sidonie by Sidonie



Sidonie is a young lady. Yet another one. It's true that we've had quite a few on here, but guys just don't seem to write to me. I don't know why. Come on men, pull your finger out and start illustrating!

Her info:
Age: 24
Location: "Somewhere between Paris and Nancy, France."
Blog: Definitely Sidonie
Her illustrated FML: The one with the bag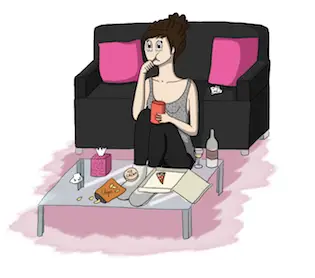 Sidonie is quite young. I remember when I was 24… Well, no, not really. It was so long ago. OK, I'll admit it, I'm going through a really bad nostalgia phase, thinking about time flying by, all because it was my birthday last week, and being 24 seems such a long time ago that I want to rip my eyeballs out and through them at passing traffic. Or not. It's ridiculous. Let's move on. Sidonie is a student: "I'm preparing my master's 1 in web design at an advertisement school, and I'm interning in a digital agency as an assistant artistic director." Does she enjoy doing what she does? Does she need anything? (this is where I expect the usual "I need more time" response): "I like the freedom, drawing allows me to express myself in a different way and be free. It's also a great solution against stress. I do lack some technical qualities (and maybe a certain sense of humour) but that will all fall into place eventually." Ah, the old sense of humour problem. The technical stuff can be learned, but a sense of humour I'm not so sure about.
What are your projects or current activities? "I'm actively preparing my website definitelysidonie.com so that it's truly in my image, and so that people will want to return to it. Updating and developing my blog is my main project outside of my internship for the moment." What about projects? "Promoting my blog, with the goal if possible to become an illustrator and to make a living out of it. I started out a short while ago so of course there's progress to be made, but that'll be OK, little by little!" According to all the artists that I've come across through this page, you have to create a client base and then let the word spread through word of mouth. So, anything is possible!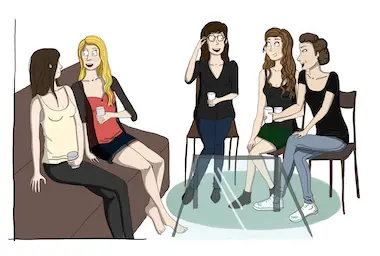 How did you start out? "I don't remember if someone or something made me want to draw, for as long as I can remember I've always had a pencil in my hand. Since I was little, I've drawn and drawn, I've even drawn all the characters from my favourite cartoons and movies, or created my own range of clothing (for a long period of my adolescence, I wanted to be a stylist." And what about your school days? "I've travelled a very bumpy road, full of doubts, changes and pitfalls, I've never really known what I wanted to do later (and I'm still wondering) and this has shown up in my trajectory." She went to art school, spent a year in Oxford, then back in France got an advertising diploma, a bachelor's degree in creation, and most amusingly: "a gap year at Glamour magazine as a graphics designer, which was probably my favourite internship, or should I say one of the best months of my life: gossip, a great working atmosphere with wonderful colleagues, bitching now and again, getting free beauty products, it was wonderful!"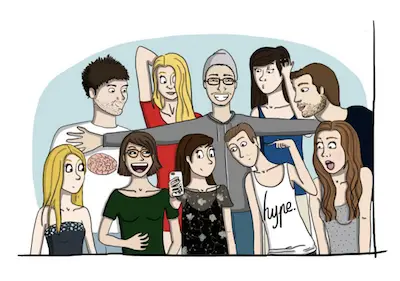 What do you enjoy in life? "At the moment, I don't have a lot of time due to my internship, so in the evenings I'm usually flat out like a pancake in front of the TV, playing Candy Crush (yes, I'm an addict) but I also like drawing in the evening, it allows me to break free from it all before going to sleep. At the weekend, I'm like everybody else, I go out with friends, shopping and I draw a lot too. And when I go back home, I visit my family and my dog, Harry. I recently took up sewing. I sometimes still draw clothes, and even if I'm far from it, I'd really like to make some one day. One of my other guilty pleasure is pastries. It's creative and has the advantage of tasting nice. I'm a cupcake specialist and if one day I want to give everything up, I'll open my own tea room." We'll come and visit with pleasure.

Have you got a personal FML to tell us about? "I'm hesitating because there's so many… Incidentally, that's why I created the blog, while telling my friends my stories, they'd say that my life could be a series and that I should write a book. The name Definitely Sidonie comes from the conversations, my friends often saying, "that sort of thing could only happen to you!" A recent tumble in a staircase like a stuntman, an alcohol-fuelled tumble I must admit… Last December, I lost my house keys and my phone after a party and all my friends had left. Luckily, I still had a credit card and a travel card. After trying my place (without managing to get it), I went to a friend's place (at 6:30 am) but the main door was closed, and as I didn't know the code to get in, I had to scream and shout, try codes, bang on the door in vain for 40 minutes. I managed to get warm and end my suffering when a neighbour (who checked to see if I wasn't a burglar) finally opened the door." Hmmm, are you sure your friends don't try to run away when they see you coming? Oh all right, I'm kidding, chill out.
Do you have any advice for someone who is starting out in drawing? "Persevere! It's by practising that you become comfortable and that you progress. But the most important thing is to be passionate about what you're doing!" OK, duly noted. Passionate. Right.

That'll be all for this week. It's time to turn off your computer and go and do something less boring instead. Go kick a kid up the backside, especially if he's whining about something in the middle of a supermarket. I'll be out and around, dancing like a man who has been tasered in the nipples. Join me in the dance of the return of Spring! See you next week, and as always, be excellent to each other.
As always, if you think you've got talent and want to contribute to the illustrated FML, send us an email to [email protected] but only send us your blog's address and a few samples of your work. No need to create an illustrated FML straight away
#1508 - Illustrated FML - On 03/19/2015 at 9:12am by Alan - 12 comments