Bettina's illustrated FML
Can you feel the shitty atmosphere too? In the coffee shops, bars, in the company canteen, in the school playground at school in between two Marlboro Lights, on social networks with all the shitty comments that kick your self-esteem into the gutter when five minutes before you were feeling quite happy with life, because you'd put on a nice cardigan, I mean seriously, it's everywhere. To quote the wonderful Sophie-Marie Larrouy, "Cynicism is the 21st century's equivalent of the Spanish influenza." People aren't allowed to be kind any more, no way. You have ram people's faces into the mud with the shittiest put-down you can think of, so that whoever you are talking to can feel slightly bad about themselves, and realise that solidarity has given way to competitiveness, in all areas of life. Being cynical is now a default setting in everyday life for a lot of people, so if you've not be given a thick skin, you're in for a bumpy ride. This week's illustrated FML takes a look at the growing problem of today's youth getting involved in witchcraft instead of doing their homework. We could be cynical about that, but we won't. Let's be compassionate.
BETTINA'S ILLUSTRATED FML
"
My daughter asked me once if she was allowed to taste one of my cookies because she actually thought they were only for adults.
"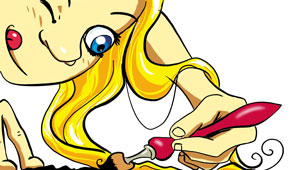 Self-portrait Bettina by Bettina



Bettina isn't a nickname. It's her real name, and it's rather nice. It's her first time on FML, so let's be nice to her.

Her info:
Age: 35
Location: Aubagne, France
Blog: Bettina illustration
His illustrated FML: The one with the apple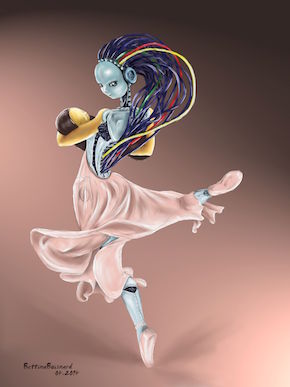 Bettina is a freelance illustrator. She says so herself. When I ask her what she does for a living, she replies "I'm a freelance illustrator." See? See lacks time, which is what a lot of freelance illustrators say. But see seems to enjoy what she does, and more specifically, "Escaping, imagining, making my clients happy when I managing to paint what they had in mind, thinking about something other than everyday life. As I'm a mom, I'm Cinderella but the fairy godmother never came." I feel a tinge of sadness in that reply but let's not go there. The fairy godmother is a bit of a mean old cow sometimes.

So, how did she get to where she is now? "Nothing too crazy up until high school. Then six months of a biology course, I failed a nursing exam, I took it again in the army and then they made a mistake in my papers and I wound up as an electro-mechanic on helicopters. I loved it. I think I was more at home than as a nurse. I had to leave the army for personal reasons and I bought myself a course in a career that's a fulfilling as the first one, but I can control my timetable much more freely." Wow, electro-mecanic on helicopters, whatever that is, sounds good. I'm impressed. I don't know much about helicopters but I do know that used to watch Airwolf when I was younger and it made me jump up and down and a little bit of wee would come out. So, yeah, helicopters.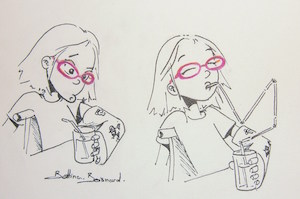 How about projects, where you going, girl? "I share my projects with Monica with whom I develop youth albums in sign language to help people learn the language, parents (who can hear) as well as children, deaf or not."
By the way, if you're an illustrator who wants the publicity, a decent quality beginner, or even an established professional, don't hesitate to contact us, or even me directly at [email protected] to take part and get your own spotlight.
The usual, but important question: how did you get started? Was there something or someone who made you want to start drawing? I've always drawn but I didn't expect to make a career out of it. As I didn't have solid bases, it was the only job that was compatible with my handicapped daughter's timetable (I hate the word handicapped)." The cynical people I mentioned in the intro would probably have something to say at this point, but turning your life around for your kids is a commendable thing to do. In any case, it's not that easy just to give up and go do something to change your whole life around. Sometimes, in the comments on FML I read some really cynical or naive ramblings, especially concerning jobs. If someone has the audacity to post a story about having a rocky relationship with their workplace, someone will always say, "Well, at least you've got a job" and then some other genius will say, "If you don't like it, why don't you get another job?" Yep, because jobs are a dime a dozen down at the job tree, you just have to pick one that fits your size, you can have three all at once if you want. Nitwits.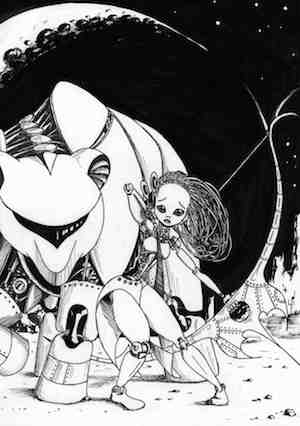 So, besides your work and your kids, what do you like? "Besides drawing, I like walking by the seaside, reading, making clothes for my daughters and me, watching a movie in the evening while eating M&Ms under my "old lady's blanket" (according to my significant other)." How about movies, books, etc.? "Movies: "Big Hero 6" by Disney, it's great and there's no singing in it. Wonderful. Series: "Game of Thrones", in book format as well. I love comic books, from Tintin to Lanfeust by Troy and Monkey D. Luffy. I like blogs also, for example Tony Di Terlizzi, Laure Phelipon, Emilie Decrock, Noukah…"

Speaking of blogs, do you have any advice for someone like me who is trying to learn how to draw? "You should never stop drawing, even if you don't have a specific project, it's the only way to progress. Enter drawing contests, illustration contests, etc., sometimes the comments you get in return allow you to understand what's wrong easier. I've failed loads. The last one allowed me to work with Monica, I failed it but the comments were good." OK, I'll take heed of all that, but I'm still shit. Maybe one day I'll do my own illustrated FML, under a false identity and surprise everyone. But not yet. For now, my illustration style is like a spider falling into an ink well, having a stroke and then dashing across a piece of paper.

To finish off, how about a personal FML? "As often is the case, a travelling salesman rang at the door. I open the door. "Hello, is your mother home?" I was 25. OK, I'm not very tall, like a 12-year-old." That's a classic. It's even happened to a prominent member of FML, but I won't give any names because I don't want to be slapped in the noggin.
That's it for now, because it's late. We can go outside, and have fun. Unless you can't. Remember to call your parents to tell them you love them, even if sometimes they get on your nerves and sometimes forward you e-mails that blame Obama for everything from bad cable reception to Uncle Terry the alcoholic losing his job down at the saw mill. And get some sleep as well. Sleeping is good for you. I'll be out talking into a microphone for charity this weekend. No joke. I don't know how I get dragged into these things… Oh, yeah, because I stopped being cynical, and I tried being nice. Try it, it's fun (even though you can get bogged down in rules and regulations, and you have to talk into a microphone to a bar full of drunks). See you next week!
As always, if you think you've got talent and want to contribute to the illustrated FML, send us an email to [email protected] but only send us your blog's address and a few samples of your work. No need to create an illustrated FML straight away
#1507 - Illustrated FML - On 03/06/2015 at 3:51am by Alan - 12 comments