Mathilde Morieux's illustrated FML
Madonna must be the only person breathing a sigh of relief right now thanks to all the idiots arguing about the colour of a dress. Thanks to a badly-lit photograph, everyone seems to have forgotten that she super fell down some steps during the Brit Awards (which is like normal falling down, but while wearing a cape). It would even make a nice conspiracy theory, the whole silly dress debate appearing right after the Ciccone taking a tumble on live TV. And next week, the internet will be arguing about an old 'Spot the differences' game from a copy of the Daily Mail from 1976. If you've never seen the movie Idiocracy, I strongly recommend it because it's where we're headed on a Segway. That or Demolition Man. Anywayyy, idiocy isn't just for certain people. It's open to anyone, at any time, from any background and any age, as this week's illustrated FML demonstrates. Intrigued? You should be.
MATHILDE'S ILLUSTRATED FML
"I can't stand it when people throw up in movies… I really can't. I actually think I could throw up myself, so I just put hands in front of my eyes."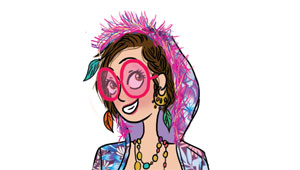 Self-portrait Mathilde by Mathilde.



Mathilde, weirdly, doesn't have a nickname or a special AKA. It's "Morieux Mathilde, erm, Mathilde Morieux, yes, I'm very a very creative girl!" And that's not a bad thing, it means I can refer to her as Mathilde all the way through the article, instead of getting myself muddled up with things like Tinwar22 and Glockenspiel-on-sea, as these things are wont to happen. No offence.
Her info:
Age: 25
Location: Castellar, France
Blog: Truc Machin Chose
Her illustrated FML: The one with the weird taste
Mathilde is a young girl who live in France near the Italian border. She lives in a small mediaeval town, which doesn't mean they're behind the times. She sent me her work via the internet, not via a kestrel. She contacted us via our e-mail address, and we liked her website so we thought we'd give her a shot. Don't hesitate to do the same if you'd like to feature on this very same page. Oh, by the way, sometimes people comment on this page, saying things like "I only come here for the pictures" or "I never read these". So, they do come here, but they say they don't read these. That means I can call them names, and they won't notice, right? Hey guys, this is my reaction to your comments. Shove off, peasants.

So, lets move on to the analysis. Who is this Mathilde person. What does she do? "Drawings, which is good you'll say. I'm still a freelance graphics designer, and up until now I've always had a job in the media on the side, but I've finally set off on my own!" And do you enjoy it? "That's a tough question. I like the freedom of creating illustrations, characters, telling silly stories on my blog, my friends silly stories especially, they're the best! Seriously though, I like the freedom that freelancing gives, being able to work at home, making your own schedule (which really means lounging around in pyjamas all day with no one to say anything about it, which is GREAT!) and being able to chose what I work on… The drawbacks being the fact that I have to find new clients, the salary isn't automatically paid at regular intervals… Ah, and I lack a Cintiq to make excellent illustrations!" Wasn't it Christmas recently? Weren't you showered in gifts? Or did you get an orange and a lump of coal because you live in a Dickens novel? Sad times.

What's your news, and how about plans? "I'm slowly but surely developing my freelance work, and I moved house recently so I'm widening my client base." And your plans? "I've got loads! One which is close to my heart, which is going to allow me to mix my granny-style pastimes to my illustrations and creations… I can't say too much about it but basically it's a blog I'm doing with someone else, with a lot of DIY, with inspirations, fashion, stories, illustrations… Whoops, I've already said too much. To find out more, just keep an eye on my work, it'll be launched soon." We will!

So, what are you into at the moment? "Musically at the moment, I'm listening to Brigitte, Christine and the Queens, London Grammar, Emma Louise, that sort of thing. Books, I'm right in the middle of Outlander by Diana Gabaldon, a great book and the TV show is good too. Speaking of TV shows, I think I watch too many, Vikings, Game of Thrones, the Walking Dead… As for comics I'm reading The Hero by David Rubin, which is really good. As for blogs I check out, I like the ones by Jenay, Melle Karensac and Marine Blandin."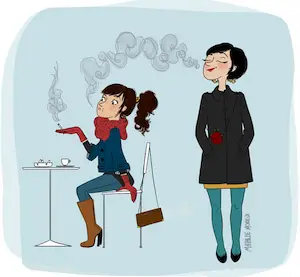 Tell us about your pastimes, pleasures and vices. "I like my rabbit who is MAG-NI-FI-CENT and who is called Kiki (we couldn't come up with anything better…). I like creating things, other than my illustrations, creating with my own hands. Knitting, braiding, sewing (yes, I have an old woman's pastimes, but I'm totally fine with that!), engravings and things like that. So what I really need is a workshop to spread all this out so that my home doesn't become too much of a mess. And I've taken up jogging, it's never too late, I like it a lot, I feel like I going to die each time, but I like it. But it allows me to get rid of the guilt of all the chocolate I've eaten during the week. No, I won't tell you how much." I can totally understand, I have the exact same problem with Big Mac's and Jack Daniel's

How about a personal FML to finish off? "There was the time when I was teaching a class each student would pose in turn to be a live model for the rest of the class to draw, when one time a rather portly student's turn arrived and another student asked for some more paper because he didn't have any room left on his. Me, the ever-naive teacher, thought, "Oh wow, he's been working hard!" but when I arrived at his desk with a blank piece of paper, his was practically empty, and the rest of the class burst out laughing." Hmmm, yes, that's quite the FML for you, and the guy posing. So maybe we'll say one-all. Poor guy, though!
That's it for this week. Thanks Mathilde for taking part! We'll take off into the weekend, hoping that we'll not be arguing over the colour of a dress in a photo, that we're all #GoldBlueWhiteDress and that Nutella will save us all. Tomorrow will bring us another reason to hate ourselves but for the moment, let's just put on this song and dance around a little, hoping that it's gonna be all right. Be excellent to each other, and see you next week.
How about you? Think you've got talent and want to do an illustrated FML? Send us an email to [email protected], but only send us your blog's address and/or a few samples of your work. No need to create an illustrated FML straight away.
#1505 - Illustrated FML - On 02/27/2015 at 8:44am by Alan - 14 comments