Tine's illustrated FML
All you need is hate. That's what I got out of St Valentine's day last weekend, because I was sick and couldn't go to the restaurant as planned, along with the rest of the idiots. It's also the name of an excellent song, by the excellent (now defunct) Scottish band The Delgados. But all's not bad, there's still some things in this world that are worthwhile, aren't there? And even if there isn't, if life is getting you down, you can always count on "substances" to make life seem fantastic. A pint of lager laced with MDMA, an evening at Snoop Dogg's house to talk about plants or why not try some homoeopathy to see if the sugar pills containing nothing and the placebo effect/con trick will work on you. Sometimes, love isn't enough to make you feel as if you're constantly floating through the air and make life seem easy. You need something to kick you up the backside in the morning, which is what this week's illustrated FML is all about. Check it out.
TINE'S ILLUSTRATED FML
"I made a good investment in a great little French bulldog to keep me company, but I've known better conversationalists."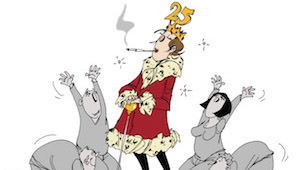 Self-portrait Tine by Valentine.



Tine is short for Valentine, which is our guest's name. She's also "TinOdine on Facebook." And she's also yet again a Belgian girl from Brussels. I swear this isn't done on purpose.
Her info:
Age: 25
Location: Brussels
Blog: Her website Tine and on Facebook.
Her illustrated FML: The one about the coffees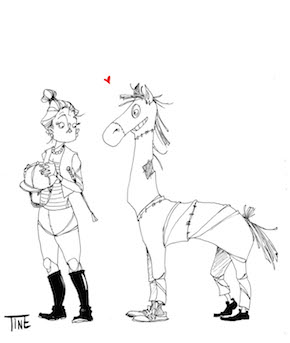 Tine has already done an illustration for us, but it was only on VDM, our French site. You can check it out here if you want to, because we're not going to patronise you and assume you don't speak French. If you do, that's cool. If you don't that's cool too. I speak both, barely. Anyway, she offered to do another illustration for us, and this time we said yes, and offered to stick her on both websites. Speaking of which, if any previous illustrators are reading, if you fancy doing another illustration for us, and want to be on FML as well as the French website, do get in touch, we'd love to have you back. Especially if you've got something to promote, which is what this blog section is all about. So if you're out there, don't hesitate. For the rest of you, don't hesitate in sending me bottles of Jack Daniel's, some Pringles and some Cadbury's Flakes. I'm only mentioning this because I'm hoping that if I mention them enough times, they'll send me shitloads of free stuff for all the free publicity and my unwavering support. I've heard that it happens sometimes. I know that I'm not an influential fashion blogger like my friend Zoé, who gets given a helicopter every time she gets inviter to the launch of a new range of chain-mail trousers, but still, it would be nice to get gifts every now and again. Go on, sponsor me! It's my birthday in less than a month!

Let's get back to Valentine/Tine. Who are you? "I spend my life drawing, and I'm even paid to do so : I'm a full-time illustrator. Well, not exactly, I'm also an accountant, a manager, a salesperson, a maid… You've guessed it, I've got an independent status. My days are a subtle mixture of drawing, bills to be paid, getting in touch with potential clients, cooking (ha…) and housework (sometimes). A few examples: I worked for the Belgian economics newspaper "L'Echo" (The Echo), and for two German media (where I'm originally from), some magazines, some websites, businesses - but also private orders, like wedding invitations, cards for newborns, various invitations, etc." I see, quite the busy bee than. I admire people who work a lot. I won't say that I'm one of them, but I get bored easily, so I have to fill my days with something, whether it's work or housework. Which in my world means, "Removing cat hairs from each part of the apartment".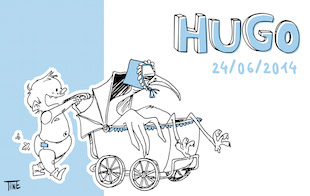 Do you enjoy what you do? "I really like my job a whole lot, I'm lucky enough to be able to wake up (almost) every day thinking that I'm going to be able to (almost) earn a living by drawing. That said, working as an illustrator, or more specifically, a press illustrator, is quite a lonely one so what I miss sometimes is a bit of human contact. I made a good investment in a great little French bulldog but I've known be conversationalists. So yes, it's an interesting and great job, but a lonely one." I can understand that. I work mostly from home too, but I converse with cats. And I prefer to work from home, away from people. Human contact is overrated, and if I need to talk to someone, I just go over the road to talk to the girl who works at the bakery, because I have a huge crush on her. It's more than enough.
I asked Tine about her current news and projects, but got nowhere. She replied, "On my way to becoming a star" and "Loads" respectively. In much the same way, she replied "Joker" when I asked here how she started out in drawing and whether something or someone gave her the impetus to start. As I'm curious and I've got a warped imagination, I think this answer means that the day of her 7th birthday, the only gift she got was a 2HB pencil, and she was really disappointed, but she turned this disappointment into strength, and started to draw The Joker, Batman's enemy, and ever since she's identified with The Joker and she wants to defeat Batman, whatever the cost, often forgetting that they're fictional characters. OK, my theory is a bit crap, but that's all I've got for now.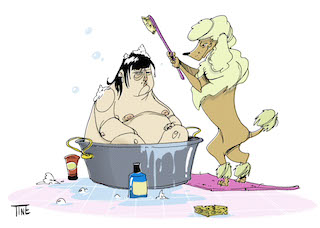 Anywayyy. Tell us about your pleasures in life and stuff. "I like to sleep. A lot. Other than that, I like going to the movies, going for walks with my monster, going for runs (nah, just kidding), cooking, ponies, rainbows…" Same as the rest of us. Running is horrible. I used to run, when I lived by the sea, I could run through the neighbouring vineyards, I was in love with this girl and… You know what, forget it. It's a story for FML's question time.
How about a personal FML to finish off? "There's certainly been LOADS but I'm incapable of quoting any. I always make myself laugh when these things happen, then my brain classifies the event away in my brain - it's probably my ego trying to survive, no doubt." Denial is another way to live your life. But be careful, too much denial can make you start to act all strange. "Everything's fine, I'm fine" will work for a bit. I still wake up in a cold sweat about something I did or said in 10th grade. Neurotic, me? Penis, I mean, Mum, shit, I mean never!
That's it for this week. Thank you Valentine for taking part and for answering most of my questions, we got there in the end! It's the weekend now, well, it is for most people. Hope you have an excellent time, I'm going to stay indoors, listen to some Tim Buckley, drink some herbal tea and pretend to be Amish. Be excellent to each other, and see you next week.
How about you? Think you've got talent and want to do an illustrated FML? Send us an email to [email protected], but only send us your blog's address and/or a few samples of your work. No need to create an illustrated FML straight away.
#1504 - Illustrated FML - On 02/20/2015 at 6:13am by Alan - 16 comments