Caroline's illustrated FML
Love, love, love. Yuck. Tomorrow, it's Valentine's Day. Big whoop. The Hallmark holiday. Well, it's not really a holiday. We never get a day off for it, and it's on a Saturday this year. Anyway, recently I found myself sat between a few girls, who I consider friends, and they were discussing who or what they'd encountered on Tinder. It was quite depressing, especially the way the "products" available were being described. It was like watching a metaphorical play in which the death of romance and emotions was being played out in front of me. It was like they were discussing collecting Panini stickers. It seems like a lot of us are all looking for that ideal person that doesn't really exist, and all these apps and websites are just bullshit put there to make us believe that the grass is not only greener on the other side of the street, but it's homegrown stuff you only usually get in Amsterdam. Let's put an end to this masquerade right now, together, by loving one another without the illusion of that "better someone", because, let's face it, that "better someone" is probably looking for someone better than you. This week's illustration is in that ballpark, in that the protagonist should know when to quit. Wait, what? Check it.
CAROLINE'S ILLUSTRATED FML
"You've got to be scared of something, otherwise it's just not funny."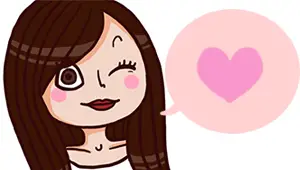 Self portrait Caroline by Caro.



Caroline also known under the name Carogribouillis. "But I don't like that nickname anymore." It means Caroscribbles in French. I wanted to suggest some others, but her website is already called that, and I doubt she wants to be called A$APDrawings or CaroLsinger.
Her info:
Age: 28
Location: Brussels
Blog: The illustrated daily life of a Brussels girl
Her illustrated FML: The one with the nurse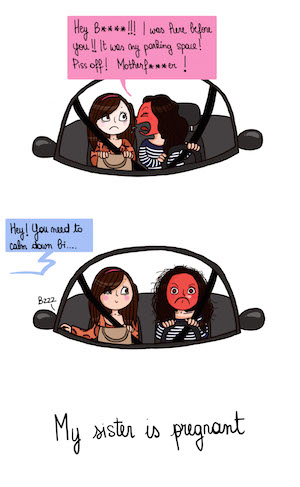 Same as Gib last week, Caroline contacted us via e-mail. I'm just pointing this out to try and get other illustrators reading this to write in too. I'm always looking for new talents to illustrate FMLs, even if sometimes I have to disappoint some who write in, not because we don't like their art, but because we have to stick to certain rules on FML. Unfortunately, the independent style, drawn all in black, with dark humour, which might be enjoyed by a small percentage of us (I'm not going to say 'an elite' but I want to because I'm ill at the moment so I'm pumped full of drugs) won't be appreciated by most of our readers. So we have to give the people what they want. But don't let that stop you from contacting us at the address listed at the bottom. We always enjoy hearing from people.

Caroline, who are you? "I'm a nanny and I created illustrations now and again for magazines and books." Ah, a professional nanny. That's a hardcore kind of job. I'm only saying that because after about 10 minutes in presence of a kid I start to feeling dread, boredom and I feel like carrying out scientific experiments on it. How did Caroline get to where she is now? "After I graduated from high school, I was trained in cartooning. And since then, I've had orders here and there, illustrations for magazines and books, portraits, but that's still not enough." It's difficult to establish a clientele base it seems, especially if you're counting on making a career out of it. I hope this appearance on FML will allow her to get some publicity and that people will spread the word.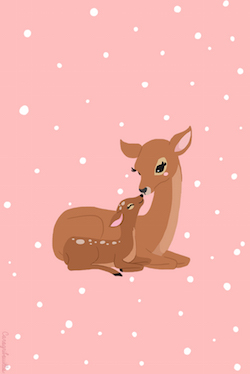 How did you get started? Did something or someone give you an initial urge to start drawing? "No, no particularly, I could grip hold of a pencil when I was 2 years old, and I haven't stopped drawing ever since." I had a friend in high school who was really good at drawing cartoons, and I've always wanted to learn to draw as well as him ever since. People who have been reading these ramblings since January 2014 know that sometimes I post ridiculous stuff that I've done, but not recently. It's one of my great regrets that I never learned, but I'm such a procrastinator. I wish I could go back to that time, when I was at school, and learn from that friend. And knowing all that I know now. Starting over, but with today's wisdom. Yeah OK, that's another story, a science-fiction project for another day.
How about you Caroline, do you have any projects as ambitious and as easy to accomplish as mine? "There are so many bouncing around inside my head, I'd really like to publish a book containing all my blog's little comics. And also illustrate a childrens book." OK, so, right after saying that, she says that her hero is Christian Grey. Right, so the movie has just been released so I'm going to let that slide, it was surely a little joke, she made a funny, because I read that book when I was getting over a broken ankle (someone thought it would be funny to lend it to me while I was laid up in bed) and it's THE worst book I've ever read. The people who thought it was romantic and sexy don't deserve to be taken out to the restaurant or anywhere for Valentine's Day. That book is the romantic equivalent of ass cancer.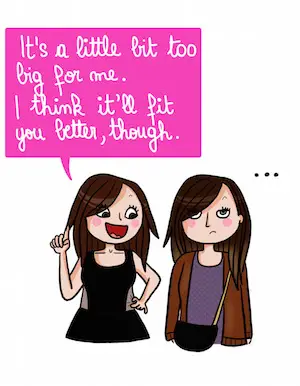 Anywayyyy. Tell us about things you like, your pastimes, your vices. "Drawing, obviously, but also painting (I have to do some more of that), reading, the colour pink (I think you can tell by looking at my drawings), animals, boozing… My biggest fault is (like a lot of girls) that I like shopping. At the moment I'm reading a lot of romance novels like 50 Shades of Grey, that I read in one go…" Oh shit, she wasn't kidding. Seeing as she's a guest on this column, I'm not going to say anything mean. I mean, I'm not going to say anything else that could be construed as mean. But the book is still horrible. I almost feel like going to one of the movie screenings with my current bronchitis to blow bits of my lungs everywhere, take the piss and have a laugh. Let's continue. "I also love Gilles Legardinier's books, I've practically read them all. I love thrillers too. I loved the thriller Before I Go to Sleep by S.J. Watson. I like TV Shows The Mentalist and Shameless (the US version). And as for comics, I really loved "Hey Miss" by Yatuu, which was very funny."

And what about the artists you check out now and again on the internet? "I really like Yatuu (I've mentioned them before, but I've read all their books), Piratesourcil (I never miss an episode) Diglee, Pénélope Bagieu (I loved following her stuff, but it's a shame that's there's hardly ever any new short stories) and many others but the list would be too long…"
How about a personal FML to play us out? "I was once locked with a friend inside a train station in Brussels, during the night, for 5 hours, after missing the last tram. We were scared after going up the escalators, because huge shutters were closing the underground station. This was a long time ago, but I can remember it very well. It was a fantastically shitty night." I've always dreamed of getting locked inside a supermarket for a night, I don't know why.

Right, time to go home. Pick up your things, and sling yer hook. Tonight, don't forget to turn off your phone so that you don't get woken up tomorrow morning. It's the weekend, so you can sleep in. Unless if you're working in retail or whatever, in which case, I salute you. Tomorrow it's the day of lurrrrrrve. Or vomit. Have fun. Here's some actual love. Be excellent to each other, and see you next week!

How about you? Think you've got talent and want to do an illustrated FML? Send us an email to [email protected], but only send us your blog's address and/or a few samples of your work. No need to create an illustrated FML straight away.
#1502 - Illustrated FML - On 02/13/2015 at 11:28am by Alan - 14 comments