Lazouave's illustrated FML
Right. How are you doing? Things are going a bit nuts round our way. Everyone knows the Keep calm and carry on posters and their various derivatives. They were initially conceived to reassure and boost Great Britain's morale in case of an invasion in 1939. They were never used, but we should keep that stiff upper lip spirit in mind, especially with what's going on at the moment. Let's stay calm, and carry on. This article is about cartoons and humour, so I'll stick to that, and won't go into what's been going on, but if you've checked the news recently, you'll know what I mean. It's hard to introduce the second part of our New Year's celebrations illustrations, but by jove I'm gonna! Here we go.
LAZOUAVE'S ILLUSTRATED FML
"Dinosaurus biscuits + glass of milk + stupid TV show = best day of your life. Approved by myself personally."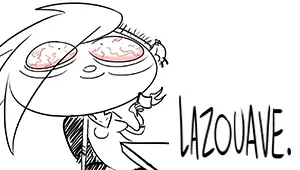 Autoportrait Lazouave by Sauvane



Lazouave, is also known as Sauvane, and is thus a girl. Yes, a girl. I get a lot of them on here, don't make that face.

Her info:
Age: 24
Location: Paris
Blog: Lazouave
Her illustrated FML: The one with the penis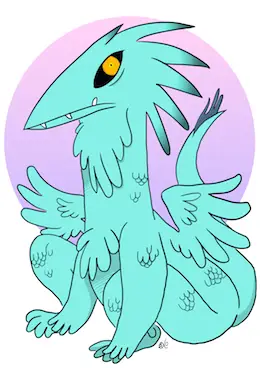 This week, we're still celebrating the new year. Happy New Year everyone, bis. Yesterday, I was told about a story about a guy over here in France who'd had a really terrible 2014, a divorce, his mother had died, and on the 1st of January, he'd sarcastically posted on Facebook, "Bye 2014, feel free to drop by anytime!" With all bloodshed recently, he posted another status saying, "Hey, 2014, I was joking."

So, Lazouave. EShe'd contacted us a while back to do an illustration, and I suggested she do the New Year's one. But who is she? "I'm a graphics and motion designer." And where does she come from? "I did studies in litterature, with further education in applied arts, then a diploma in visual communication, dabbling in advertising and editing. And 3 years later I did a course in Graphics Design and Motion Design. It was ultra, mega, giga. Like Hogwarts for people who like images. After that, I did a few months freelance work, all the while being a creative director on the side. And for the past year I've settled on a well know TV show where I make motion design." I'm not sure what the TV show is, though.

What's your latest news? "A hurricane of projects, like crazy illustrations for a psych-pop music clip, Drak King photo portraits and an erotic fanzine that I have to supply willies to to." Hey, she's get on well with my friend Bénédicte, who did the Christmas illustration (she likes drawing willies, I don't know why. Paging Freud.)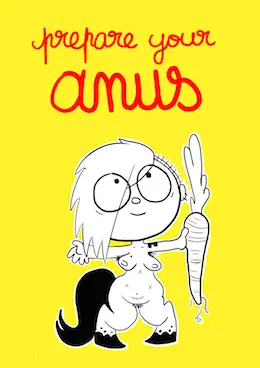 What does she enjoy in life? Any vices? "Wow, that's tough. Well, I can start by saying I like dinosaurs, chicken and drawing willies. They're all sure things. I'm very passionate about anything that can be considered kitsch. My living space is a temple dedicated to bad taste, it totally stimulates me when I'm working. My favourite object is a Queen Elizabeth II plate, her benevolant smile always revigorates me. A small vice amongst many: I always kiss my envelopes before posting them. It's a little ritual to help my mail get to its destination, and it works. And I listen to rubbish '90s music. Do you know Kajagoogoo? They make me go nuts! WOUHLOULOULOU !!!!"

I must interrupt this diatribe to point out that Kajagoogoo were at their most popular in the '80s, not the '90s. I know, I was there, I even have the 7-inch of their most famous song.
What about your everyday pleasures? "Insulting my computer, drinking coffee, letting loose some atomic farts under my duvet, as I'm single." Hmmmmm, I'm beginning to understand why the "single" part of that answer. Oh go on, I'm joking.
So, how about artists you like? "Sarah Andersen, Hyperbole and a half, Georges Clooney by Philippe Valette, Michel F., Malec's blog… The list goes on, I spend over 3 hours a day on blogs (mea culpa)." Hey, Malec was here recently, and Philippe Valette should be on here soon, if he answers my desperate calls one day.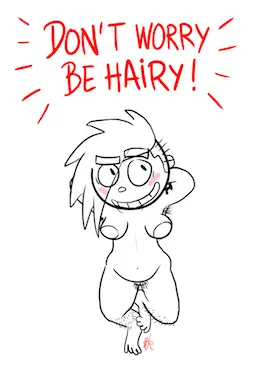 Besides comics, what do like at the moment? "At the moment, I'm trying to upgrade my movie knowledge. Recently I saw A Town Called Panic, which made me totally crack up at least 4 times in an hour and a half. Musically, I've recently discovered Glam Rock. Ever since, I want to live dressed as Faster Pussycat all the time. As for books, I was recently given the His Dark Materials books and 3 weeks of my life just disappeared. READ THEM. TV Shows that I nominate are 30 Rock, The Mighty Boosh and Record of Lodoss War. Now I know the word which describes laughing and peeing at the same time!" I'm a huge fan of the The Mighty Boosh, so I can only agree with you, and if you've never seen the show, I suggest that you check out ASAP. Especially if you enjoy absurd, British humour.
That's all for this week. We can all go back to a normal existence. Well, if you can call it that. Don't forget to keep your head up high while walking down the street, be respectful to people from all walks of life, down let fear guide your actions and thoughts, and let freedom of speech be a tool for the greater good. And find out what it actually means, before you start writing in about moderated comments. People confuse freedom of speech with the freedom to pollute websites with their offensive brain diarrhea. No, it's not. Anyway, be excellent to each other, have fun this weekend and go safely.See you next week!

As always, if you think you've got talent and want to contribute to the illustrated FML, send us an email to [email protected] but only send us your blog's address and a few samples of your work. No need to create an illustrated FML straight away
#1494 - Illustrated FML - On 01/09/2015 at 6:08am by Alan - 9 comments