The Xmas illustrated FML
Here we go, final lap before Christmas is finally upon us. Although, you could say we've been subjected to quite a few strains of Christmas already. The decorations are up since mid-August, and certain family members are pushing and shoving to get things organised since around the same time, since, you know, these things have to be planned "properly". The plane tickets have been bought early so you could fly cheaply to spend Xmas day at Uncle David's with the rest of the family, the frozen cutlets are in the cellar, along with last year's presents, and you have to go grocery shopping as soon as possible, to avoid getting crushed by two fat guys fighting over a sponge cake. Here at FML, we love Christmas because of the eerie atmosphere. The feeling that's a bit like one you get when a large supermarket opens in a small town.
THE XMAS ILLUSTRATED FML (by Bénédicte)
"We're going to have chicken with morels! Yummmm! I save up my supermarket points all year to be able to afford those goddamn expensive mushrooms!"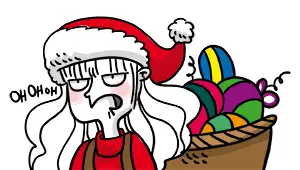 Self-portrait Xmas Bénédicte by Bénédicte



This week, Mother Christmas is back ! Yep, it's our faithful companion Bénédicte who is returning to give us a slice of cake. She's been on here many times before, such as here in this article, so there's no need for a presentation. This week, it's a bit like the last day of school, when you get to do whatever the hell you want.

Her info:
Age: 56
Location: Lapland, France.
Blog: Her page Bloutouf, which is full of stuff.
Her illustrated FML: The one with the game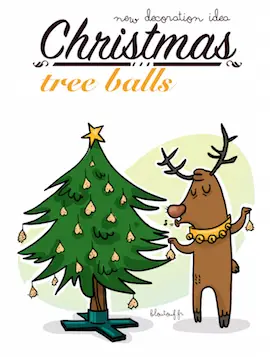 So, what shall we do this week? Should we get our stuff together and put it all in a suitcase ready to take the plane home tomorrow? Put on some Christmas number ones from the past and play board games? The Christmas spirit is difficult to define these days because things seem to be slipping. The Christmas number one for example no longer really exists. There's also the problem the people tend to get offended on behalf of other people who don't really care, and will complain that talking about Christmas is offensive to people who don't believe in The Jesus, and we should remain secular, yadda yadda yadda. Bollocks to that. Pagan festival, mixed symbolism, dates moving around, bits taken from other beliefs, go to work on the 25th if you want and hey, IT'S CHRISTMAS OK? Get off my case, I'm not even religious. I believe in David Bowie, that's about it. Anyway, it's time to watch the same movies that we watch every year, the same feel-good movies like Love Actually, It's a Wonderful Life and Cobra. What, you've never seen Cobra with Sylvester Stallone? Get it now, it's brilliant.
And it's the only time of year you can dress in red and white and get away with it. All year round, people will say, "Hey, red and white, in June? Really? Are you pretending to be Santa on vacation?" Hey, that's not nice. I know I've got a bit of a belly going on, but still. Here on FML, we like the colours, the lights, the trees. There's a definite Christmas spirit on FML. But more about that next week.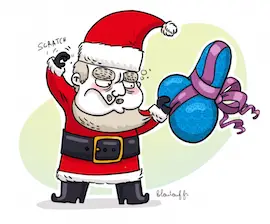 People travel a lot for Christmas. It's very traditional to go to stay with family for Christmas Eve and Christmas Day, even if you hate each others guts. It's required. It's an obligation. For Bénédicte, who has two children and a husband, Christmas goes like this: "We eat the chicken, we put the kids to bed, we drink more and more, then wham, we pile the presents under the tree once we've tested that the little lambs are out for the count, then we go off to bed, all the while knowing that we will be woken up at 6 am by two hysterical midgets!" That's the story of life. Well, the story of parents' lives I know what she's talking about, I've got two cats so it's technically the same. We're going to pig out on Whiskas, clean the litter tray, play with the wrapping paper which is always more interesting than the present itself then go out into the neighbourhood to catch mice. Same as each year. That's what years of moderating FML does to your brainbox. OK, I don't have such a sad little life. Almost, but not quite. I'm off to see my family too. And it's stressing me out. Luckily, there will be booze. I've pressed my shirts, made my suitcase and most importantly, I've got the presents ready for the kids (real kids, not cats).
To finish off, as a picture is worth a thousand words, I'll let Bénédicte do her thing. We wish you all a merry Christmas, filled with joy, presents, food, family feuds, because it wouldn't be Christmas without a little feud over the dinner table, that is resolved by the exchanging of gifts. Like most things. Next week, there won't be an illustration, but a post-Christmas special. A surprise sort of thing! Lots of love from Bénédicte and FML!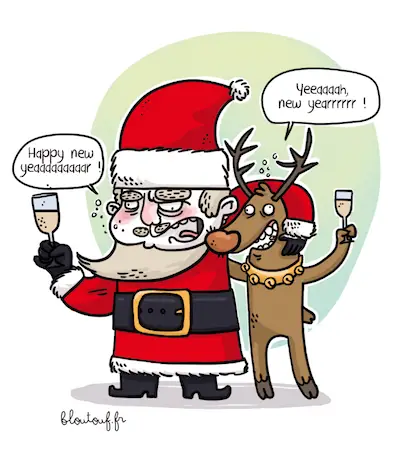 As always, if you think you've got talent and want to contribute to the illustrated FML, send us an email to [email protected] but only send us your blog's address and a few samples of your work. No need to create an illustrated FML straight away
#1492 - Illustrated FML - On 12/19/2014 at 5:07am by Alan - 10 comments