Monsieur K & Myster B's illustrated FML
Let's get one thing straight: we're not going to talk about the weather, are we? It's true that certain parts of the world (and my own body) are very cold at the moment. Freezing even. But FML is an international website/app, so some of our readers are, as we speak, in the sunshine, chilling out, having a wonderful time. Bastards. So, to make this the website that strives to include everyone, let's all imagine that we're all now out in the sun, our bodies swaying to the gentle tones of the music coming from the small radio sitting on top of the wooden bar. In the distance, a waiter in on his way to bring us a multicoloured cocktail with a paper umbrella in it. There. Feel any better? Let's forget about everyday stresses, annoying people, the miserable boss, the step-dad with the bad breath, yesterday's parking ticket, the girl from the other night with her indecisiveness, the guy at the movies behind who won't stop talking. It's all an illusion. The truth, brothers and sisters, is that nothing is important. It doesn't matter, and this week, two guys are at hand to show us that life is full of people who are waiting to piss you off, but if you work at controlling yourself instead of headbutting people, you'll make it.
MONSIEUR K & MYSTER B'S ILLUSTRATED FML
"As I'm viscerally opposed to consumerism, I'd advise you to take a walk now and again, go sit on a rock and stare at the sky, and take a while to do so."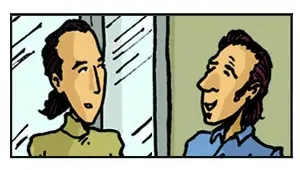 Self-portrait Monsieur K & Myster B by M.K



This week, we're getting a double helping in a way. It's two illustrators for the price of one! It's a welcome return for Monsieur K, who has already illustrated an FML for us, which you can see here, and he's joined forces which the talented Myster B, to co-create this weeks illustration. As Monsieur K has already given us his life story in the article I wrote about him here, I'm going to mix things up a bit, and examine Myster B.

His info:
Age: 40
Location: Béziers, France
Blog: La Bête du Gévaudan
Their illustrated FML: The one with the sharpie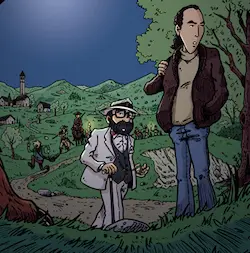 These guys seem cool. You can tell that they're the kind of guys that always have ice cubes in their homes, if you see what I mean. If they're here today, it's not just because they've done a great illustration for us, it's also because they're doing some promotional work. Yes, sometimes, when we like some people, we let them return to our pages and hawk stuff. It's got to be good, quality stuff. We wouldn't let any old fodder be sold on FML. Anyway, we'll kick off with the promotional pitch, because otherwise you'll all be wondering why this meeting of the minds is happening FML.

So, why did they decide to join forces? Their partnership on FML isn't totally innocent, of course. They've just launched a comic book, that they created together. I'll let them explain it : "'The Anachronistic Chronicles' tells the amazing (and harrowing) story of the time travelling trek of three men through humanities' great mysteries, unaware that they are creating the myths that they have come to observe. The first opus takes the reader in pursuit of the famous beast which attacked over 150 innocent people in the Gévaudan region of France in the 18th century." Long-time friends, Myster B and Monsieur K cooked up this story in great secrecy, and say so themselves: "Our revelations are going to overthrow many of the world's beliefs!"
Close to being nuts, these two comic book authors mainly enjoy telling incredible stories, and it's not their first attempt (comics, movies, documentaries, novels…). They decided to throw themselves into this adventure in October 2013, with the aim of releasing an album every year ("For Xmas, like Disney!" they declare with humility). 10 tomes are planned. We have been warned. "The first tome is called 'Gévaudan' and is the fruit of a totally symbiotic year's-worth of work, like a ping pong march. It's in the shops for Xmas 2014 and it can be ordered (in French) on its website." Naysayers among you might think that it's weird, promoting a book that's in french, but if you're into comics, what better way to learn a new language than with great artwork. Plus, it might one day be translated if enough of you ask for it.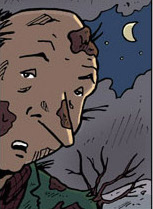 And who are these wiseguys anyway? Monsieur K, we've met before, but Myster B, who's he? "So, in the morning I get up, but I don't have breakfast. Then… Ah but… OK! I'm a stay at home dad, but I also do important things. None that comes to minds, but I do…" Hmmm, OK, sound like me when I try to explain what exactly my job at FML is. Seriously, it's really difficult to explain to someone who doesn't know what FML is, or who's never seen a website, or an app like it. Yes, people like that do exist. Oh, and I'm not a stay at home dad, but I have cats which is scientifically EXACTLY the same.
What does he enjoy about his life? "What I enjoy is starting from nothing and creating an entire universe. I just need extra wages so that I don't have to stop doing what I love so that I can eat." Oh, I know what you mean about extra wages. Sometimes, I find myself thinking that all wages are just extra wages, and that ideally shouldn't have to need to be paid to do things, we wouldn't need to work and gather a lump sump of money to feel good about ourselves, and monetary exchanges wouldn't exist, and then my cat starts meowing because she wants feeding, and the litter tray needs changing and all the Marxist ideals falls by the wayside because of cats.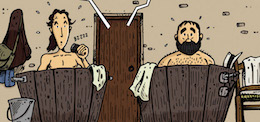 Speaking of ideals, where do you come from, and where are you going? "I'm having lunch with my mother today. Other than that, I've just finished a 60 page comic book with Monsieur K about time travel." Oh yes, I seem to remember mentioning something about that at the beginning of the article. Any projects? "In the near future, I'm going to be finishing my cigarette. After that, the rest of the comic book series (we want to do 10 tomes, and one tome takes a year). It's going to take quite a while…!" I can't imagine the time it takes to write and draw something so ambitious. When I try to draw a man taking a dump into a hat, it doesn't look like a man or a hat, it takes ages to do and then I can't even remember why I started doing it in the first place. So, guys, I take my hat off to your talent and patience and stuff. Myster B says, "I created my first comic when I was 8 (I've still got it, it's cringe worthy). I can't live any other way than by creating or by writing stories." If I'd had this same drive, maybe my dumping man with his hat would've looked pretty good, and would've taken me 10 minutes.

That's enough with the philosophical musings. Have you got a personal FML to end the interview? "First week back from vacation for kids in nursery school. Dad (me) is in full flight, thinking of everything, every morning. This morning, weirdly, the school's gate isn't yet open, despite it being 8:35 am, the usual time the little devils all turn up. Checking the surroundings, it seems that a several dads have also made the effort this year. 5 minutes. 10 minutes. Still nothing. A mom arrives, they say hello. She laughs, saying, "It's so handy that school starts at 9 am on a Wednesday!" 20 minutes sleep that I'll never get back. FML" Sleep is sacred.

Speaking of sleep, it's time for me to leave. Thanks to Monsieur K and Myster B for taking part as a team, it was great to have them on board. We hope they'll be back soon. I'm off to do some transcendental meditation to try and understand people, and to commune with nature. See you next week, and remember to be excellent to each other.
What about you? Think you've got talent and want to contribute to the illustrated FML? Send us an email to [email protected] but only send us your blog's address and a few samples of your work. No need to create an illustrated FML straight away
#1487 - Illustrated FML - On 12/05/2014 at 12:36pm by Alan - 5 comments