Cynthia's illustrated FML
TFIF indeed. It's time to kick off the suit and tie and forget about work. Some of us are going out for drinks with friends, others are going to enjoy some live music and some brave fools are going to keep fit by doing physical activity. I'd tried doing all three one evening a few years back and it turned into a right catastrophe. A broken ankle story that was so ridiculous, Michael Bay tried to buy the rights to turn it into a movie. This weekend, take it easy. This week's illustration is about sports, what to wear when doing sports and how not to behave when doing sports.
CYNTHIA'S ILLUSTRATED FML
"
Bolacha Maria mas qué grande porcaria ! And besides singing mindlessly in foreign languages, I like to eat mini strawberry biscuits!"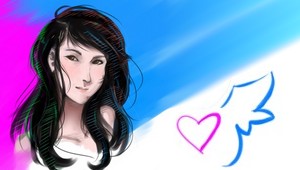 Self-portrait Cynthia by Cyci Sweet



Cynthia, AKA Cynthia P.F. AKA Cyci Sweet, "a nickname that I came up with based on a joke my parents made about a cartoon that was on TV in the '00s or before, I can only remember the theme tune, Sissi the Emperor. I just further the mix-up by calling myself Cyci the Emperor of the armies of purity and innocence." OK, this is going to be fun.

Her info:
Age: 19
Location: Troyes, France
Blog: The Punk Horse
Her illustrated FML: The one with the fly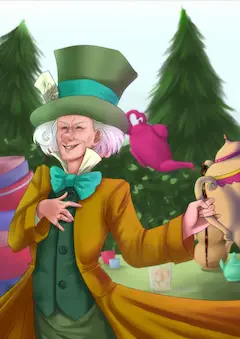 I like the name of Cynthia's blog, The Punk Horse. Well I'm not sure that it's the official name, it's written at the top of the page, but as an ageing punk who gets all worked up as soon as "Anarchy in UK" by the Sex Pistols starts playing, I've chosen to use that name. This weeks article is being guided by the power of punk. And horses. Nah, I'm not really a horse person. I can't respect an animal that doesn't even stop moving to take a dump.

So Cynthia, what do you do? "I'm a student in an Engineer School which was the first of its kind in France, created in 1925, and has since grown and is now partly in my city of Troyes. And I used to live in Paris where I got a diploma, and besides, I didn't want to stay living with my parents and my sisters, because yes, I have two younger sisters... With all this information I'm giving out, someone is going to find me and kill me in my sleep at night, or during the day but not in my bed because I'll be working at my desk... And then I didn't want to further my education because it meant doing some actual HARD WORK. Those words scare me, just writing them out paralyses me and I can hardly type, arkkkkkk." I know that feeling, I've become the king of procrastination, doing everything at the last minute. I do it with style and elegance though.

The question which intrigues me the most from the interviews I've conducted over the past year is the one that concerns the origins of their need to draw. For those of you who have been paying attention, I would've liked to have the talent required to draw, but I don't have the patience necessary to learn. Many illustrators have told me about a moment, a "thing" that made the want to draw. What about Cynthia? "My inspiration comes from past civilisations and history lessons. What made me want to draw was Winx and Spirit the stallion." Oh, that's probably the horse in the picture, then. I was hoping for a story about a grandfather crafting beautiful illustrations on the kitchen table while candles burned all around them. But that'll do.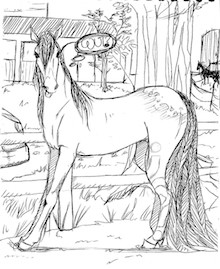 Does she have any news or projects to tell us about? No, weirdly. It must be a by-product of her studies, and that drawing is a hobby.
What does she like about her life? "I love my computer, even though it dies every four years and that I replace it quite easily, and I like to draw even if it hurts my hand a bit and that I suffer every time I draw a line due to the fact that I hold my hand a certain way... I'm trying to learn the violin but it's been four years, I'm a subscriber of a science magazine, I like listening to conferences that have something to do with physics and archaeology. Those are my hobbies. My passions are myself and antique statues. And I don't have any vices, I'm too pure and innocent, hahaha." And what about artists she admires and checks out now and then online? "It would have to be classic artists from Deviant Art : Yuumei, Omocha, Yagamisiro (a style I love), psdeluxe (who makes amazing landscapes), Katy Lipscomb (the colours are wow and it's wolves), snowmarite (the colours also), EmileW (on Facebook she's £milie), Surikane, Vicky Pandora… They're not blogs, but I'm not much of a blogger, I have to add them as favourites each time, and then I only check them out once a month."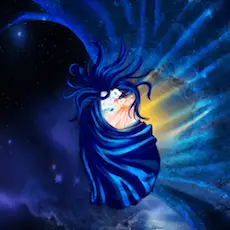 Lets be a bit more philosophical? Where did you come from, where are you going Cotton-Eye Joe? "I was born, I went to a nursery, I went to primary school, then we moved house, I went to high school, we moved again, I'm in a engineering school... It's in moments like these that I realise that I don't really want to be stay with the same people from previous years and that I do everything to avoid them... I like knowledge that comes from Physics (mechanics, bio), if I could've chosen a school, I would've selected one that dispenses lessons in geology, biology, mechanics, architecture, nano-robotics, IT, maths, engineering sciences, prehistory, civilisation history, animation, drawing, classical theatre..." As she says, she would've required a school that teaches EVERYTHING, but unfortunately, a human brain can't know EVERYTHING, and it's a shame. In any case, she didn't mention her plans for the future, except that she wants to become "a hobo". I guess she's keeping her cards close to her chest. TBC!
That's it for this week. Thank you Cynthia for accepting to take part with so much enthusiasm. Or did she contact us first? I can't remember. I'm just happy to have people talking to me. It was nice to have you on board, but now it's time to go. Have a nice punk rock song in french to set you up for the weekend. Next week should be good as well, so enjoy it. Take care!
What about you? Think you've got talent and want to contribute to the illustrated FML? Send us an email to [email protected] but only send us your blog's address and a few samples of your work. No need to create an illustrated FML straight away
#1486 - Illustrated FML - On 11/28/2014 at 10:53am by Alan - 3 comments