Emily Chan's Illustrated FML
This week, we landed a spacecraft on a comet. Not FML, though. You've got to admit that the human brain is quite amazing when it comes to resources, creativity and inventing new ways to push things forward. On the one hand, there's a dedicated team of people who've managed to do something that seems to be right out of an Isaac Asimov novel. On the other, some twit in a plane flew over the First World War commemorations in France in a plane to protest the gay marriage law that was voted in ages ago, and he can't get over his homophobia. I'm paraphrasing, of course. But it's odd how some people can use their minds for progress and the greater good, and others use it to try and drag us back to the middle ages. Love knows no boundaries, and progress always wins, as does the truth. This week, truth is at the heart of this weeks illustrated FML. So let's check out who's lying, who's telling the truth and who's the third wheel.
EMILY'S ILLUSTRATED FML
"But by night, I am an evil villain whose name shall never be revealed."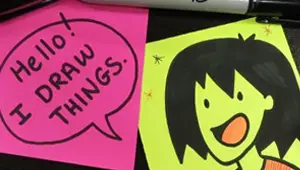 Self-portrait Emily by EyChan



Emily is back! Wahey! She's already been on FML, you can find her previous work by clicking on this link. Welcome back!

Her info:
Age: 27
Location: Los Angeles, California
Blog : EyChan
Her illustrated FML: The one with the text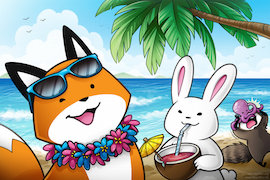 So, who is the person behind the cute drawings of foxes and, erm, dinosaurs? She lives in California, the place where hopes go to live and die. Artists are millions out there, and Hollywood is a huge machine that crushes them regardless of whether they are still breathing or not. But Emily seems happy out there. Maybe illustrators are less touched by the madness that seems to inhabit most of the people who flee there, full of dreams of celebrity and fame, you know the type: the people walking around Hollywood Boulevard and around Planet Hollywood wearing sunglasses at night, pretending to be actors, all the while working as waiters during the day. "By day, I'm your typical office employee stuck in front of a computer and surrounded by never-ending paperwork. But by night, I am an evil villain whose name shall never be revealed*.
*...I'm a freelance artist."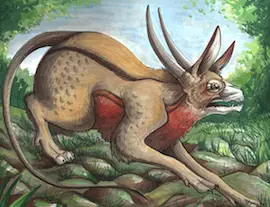 What's her current news, work-wise or personal? "I am working on a personal webcomic called StupidFox which I keep saying I'm going to retire from but that somehow never happens because I keep having ideas for it. Aside from that, I have small projects here and there, on and off, and everywhere. And then here's FML hassling me about making illustrations for them. (I'm kidding, please continue hassling me; I'm so lonely)." OK, we will, because we always need quality illustrations for our FMLs. Speaking of which, the other illustrators reading this article, feel free to get in touch to tell us all about your creations and your desire to illustrate an FML. We won't bite, we're actually very nice people. Well, some of us are. So get in touch, we'd love to hear from you.
What inspires you? "Only music can really get me to draw. However, to inspire me, it has to be my favourite song or genre. When I get tired of those songs, inspiration fails me and I'm unable to draw. This is why I constantly need to find new music every month or so to keep them in stock." I think that the worst thing that you can be subjected to when you are trying to work is other people's music. For example, I'm trying to write this article while my colleagues are blaring their godawful musical tastes, and it's like sitting in Hell. Thankfully, I have the self-control of a Shaolin Monk with an opium addiction. Long live working from home is what I say. It's the only way to work if you want to write something properly, because then I can concentrate while listening to John Cage's "4'33"". That, or earplugs.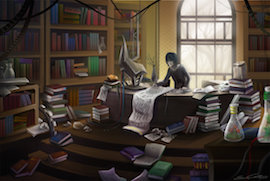 What does she enjoy in life? "I'm a bit of a workaholic, so I enjoy working and having things to do. I obviously also like to draw (as a hobby), but never considered doing it professionally since I believe that once something gets turned into a job, it's not as fun to do anymore. I'll have days where I will have free time and don't want to do anything, so during that time I enjoy video games and/or sitting around watching cheesy horror movies while eating *everything*." OK, I can see a bit of myself in that description, if you replace the video games by guitars and horror movies by documentaries about ridiculous conspiracies. That's all that's left for us to do before the massive asteroid hits the planet anyway.
How about a personal FML to finish off? "I was lurking around Facebook when I discovered that the bully/enemy that tormented me during my childhood was a mutual friend of my boyfriend." Ah yes, Facebook, bringing you closer to your past, for better and usually for worst.
We'll hop off now for this week. We can thank Emily for her illustration, and grumble a bit because she's in California where I'm sure it's sunny and warm, and most of us are in the cold. Are we? I certainly am. It's so cold where I am, I got to smell that wonderful smell of burning dust and all the dead insects that had piled up inside my electric radiators the first time I turned them on this autumn. Lovely. Anyway, have a nice weekend, a nice week and be excellent to each other. See you next time!

What about you? Think you've got talent and want to contribute to the illustrated FML? Send us an email to [email protected] but only send us your blog's address and a few samples of your work. No need to create an illustrated FML straight away
#1483 - Illustrated FML - On 11/14/2014 at 11:56am by Alan - 3 comments