Zach's illustrated FML
Everybody's talking about Ebola at the moment. I have trouble keeping up with the latest trends. I'm going to wait until Christmas and see what special offers turn up in the shops, under funky new names like e-Bola, or iBola. OK, I've done some Ebola stuff, what's next? This week I wanted to write something really sweet and romantic about the girl who works in the bakery across the street from where I live, who is very pretty and nice, but I've been told that I can't do that, so I'm going to have to write something normal, if we can pretend for 30 seconds that what I usually write is normal. But then again, what is "normal" anyway? Putting your socks on before your underpants, or the other way round? Declaring your love for your baker in an article introduction, or loving her for the way she wraps her baps? I don't know, I don't know anything anymore. In any case, this week we're being visited by someone quite special this week, someone I've thought of as quite funny for a while now (the opposite didn't turn out to be true). Check it out.
ZACH'S ILLUSTRATED FML
"Currently I'm battling several types of emotional disorders and depression attributable to hardcore life ding dong biz!"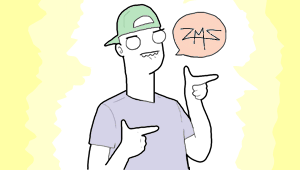 Self-portrait Zach by Zach



By now, you've probably recognised his style. Zach Stafford is one of those people who gets shared. No, not like that. He's what you might call "shareable", in the sense that his illustrations and his website have been around the Internet and back.

His info:
Age: 25
Location: Mississippi, USA
Blog: Extra Fabulous Comics
His illustrated FML: The one with the beeps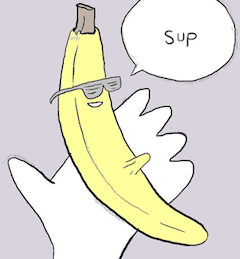 If you've checked out his website, you might have recognised some of his illustrations. What happened was, I saw one of his being shared between friends and thought, "Hey, why not ask him to illustrate an FML?" Nothing ventured, nothing gained, as say people who have never tried to befriend a pissed-off wasp or tried to declare their love to the girl who works at the bakery across the street, so I sent him an e-mail. His response should be a lesson to the rest of the illustrators who dare to send in their work late or shoddy: he'd already finished by the end of the day. This guy doesn't mess about when it comes to illustrating, he's a pro, he knows what he's doing: he gets the job done. You ask for something, a question, a drawing: he's got the answer, the drawing and a little bit more. Extra Fabulous isn't just the name of his website, oh no, it's a way of life. He says so himself, "I make comics for a living! It's the best jam ever. I spent most of my childhood scribbling doodles on stuff, and now I'm spending my adult life scribbling doodles on stuff! I love everything about it!"
It sounds wonderful, being in a position to love your job so much. Not that I don't like my job, of course. I won't go into details, but I work with two cats sitting on my lap. I know, it sounds like so much fun. I'll say no more. But tell us Zach, there must be some negative aspects to what you do? "Probably money, stable relationships, an appropriate sleep schedule, emotional security, those sorts of things. Currently I'm battling several types of emotional disorders and depression attributable to hardcore life ding dong biz! I can't sleep and stuff, so that's neat. More time to think of stupid comics, amirite!"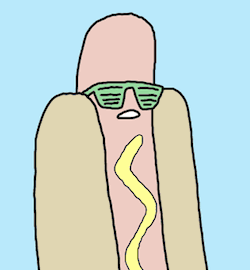 So, as David Byrne from the Talking Heads sang in "Once in a Lifetime", "How did I get here?" "Well, I have acquired a Bachelor's Degree in Jazz and Classical Bass performance, and I've even gotten one of those hip new "High School" diplomas, as well as an online "wedding officiator" certification!" An unusual career path. As I was blathering about last week, it's a good thing to change directions every now and again, but these days it's becoming quite the challenge, there's obstacles everywhere, like the economy, Ebola, trees in the road, the economy, depression, death, the economy, lack of enthusiasm, unemployment, flat tyres, the economy… Yeah, OK, anything is possible if you apply yourself, or so I've been told. "It's when you stop searching that you start to find." Or, "There's plenty more fish in the sea." That's all well and good but none of this is very helpful when I'm looking for the TV remote.
Zach's projects. What do you want to do when you grow up? "My dream is to get a job as a writer for Cartoon Network, and someday pitch my own concept for a cartoon! I'll probably always keep the webcomic up though." Where does this passion for drawing come from? Is there a long-winded story about someone or something special that was passed down through generations, a family trait that gave you the gift of illustration? "Well… I'm not sure. I've always drawn!"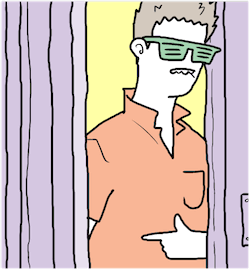 What else do you like to do besides drawing? "I love fresh air, clear skies, the reflection of the sun off of the water, a well-tuned guitar, a beautiful voice, and a bubble bath before bedtime. I play my guitar all of the time, and when nobody is around, I sing a bit to myself. I like eating junk food in excess, but I can't handle alcohol much. I've seen every sunrise and sunset for about a year now, and I can't sleep if I know one is happening. Right now I'm listening to a bunch of stuff; Arctic Monkeys, Kendrick Lamar, Maps and Atlases, and Patrick Lee, to name a few. As far as shows and movies go, I absorb them at an alarming rate, cuz I draw so much. But if I had to choose one thing to watch forever, it'd be Adventure Time. My favorite book for now is probably Joseph Heller's "Catch 22", and I freaking love any and all Batman graphic novels." He also says he hangs out on Reddit. "I like to keep an eye on reddit.com's comic and webcomic subreddits for some of my friends' stuffs, as well as finding new comics to follow altogether." Reddit is an interesting place. But if you want relationship advice, it's best to avoid it. If you want advice about how to behave yourself socially, it's best to avoid it. If you want advice on how to build a time machine, it's best to avoid it. Basically, it's best to avoid it for advice.
So, to finish off, maybe your own personal FML? "I'd have to say my personal FML would be the experience I had growing up, I always thought I'd follow in my dad's footsteps and join the military. I spent years in the Officer Training Program at school and I had even lined up which school I would attend for architecture, paid for by the Marines. I got to the MEPS station after a long bus ride a couple days after graduation, went through the preliminaries, took the physical, even got my prostate examined by some angry old man. I was sitting on the bench outside the room to swear in when they handed me my papers, stamped "UNFIT FOR SERVICE", due to my fire ant allergies. FML" Creepy, but understandably gutting.
That's all for this week. Once again, I'd like to thank Zach for everything, really. He asked me to mention his Facebook page, so I'm mentioning it. Check it out, and say hi from me. I'm now taking a break, it's the weekend, and intend on doing nothing. I have lots of things to do, but the "nothing" option seems the best. Or, I might take a train towards the south and live a new life with an alcoholic flamenco dancer who shares a house with 12 dogs and her blind sister. You guys, on the other hand, remember the words of Bill Hicks, it's just a ride; so get out there. Get up on the dance floor and have fun. Life is a party and all that, you never know when you're going to get a number 78 bus in the face, so be free. Me, no, I'm way too scared to try all that. See you next week!

What about you? Think you've got talent and want to contribute to the illustrated FML? Send us an email to [email protected] but only send us your blog's address and a few samples of your work. No need to create an illustrated FML straight away.
#1477 - Illustrated FML - On 10/17/2014 at 6:17am by Alan - 5 comments