Bénédicte's illustrated FML #2
Children are idiots. There, I've said it. OK, I'm joking. Sort of. Usually, people stare at me like I'm from another dimension when I tell them that I don't want to have kids. It's like admitting that I secretly want to push every kid I meet into a tar pit, or that I actively hate their kids. No, that's not it at all. It's just that I don't feel the actual need to reproduce. I'm not lacking anything, it's not a curse. But I can understand other people wanting to have them, and I have a lot of fun watching the kids that my friends have spawned get into all sorts of japes and accidents. They are a source of all kinds of funny stories. And on FML, we have loads of kid-related anecdotes. That's what this week's illustration is all about.
BÉNÉDICTE'S ILLUSTRATED FML #2
"I love drawing cocks. I know, it's weird, but that's the way it is! Any sort, wooden cocks, April Fool's cocks, garden cocks, any pretext will do."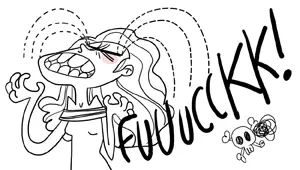 Self-portrait Bénédicte by Bloutouf



This weeks sees the welcome return of another former FML artist. Well, she's returning to FML, because she's already a constant in my life, like the North Star, guiding me (usually towards sin). She's back with a new illustration, after having created one at the start of the year, which you can check out here. Hello Bénédicte !

Her info:
Age: 31
Location: Capbreton, France
Blog: Her Facebook page
Her illustrated FML: The one with the checkout lady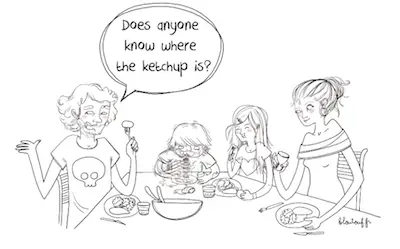 Bénédicte is young french MILF. Oh yes, I went there. She lives in a nice area of France, down by the ocean where all the surfers go to hang out and hang ten. She lives with her husband, their kids, their pets and her illustration workshop-type-thing called Bloutouf. Yes, it's a joke on how the french pronounce Bluetooth. She's inspired by the world around her, and I'll never get tired of the story about her son taking a dump in a fishing net. The last time she was with us, she mentioned something about making a comic book that would consist of illustrations of these real life events, but I tend not to listen to her when she comes up with grand ideas because she's often talking bollocks. But she's back on FML because it's actually happening: "I'm making a comic book about my life and my kids in particular, because they're an endless source of stupid stuff. They do more and more stupid shit as days go by. It's like they're battling to see who will come up with the worst thing to do."

That's exactly what I was saying in my intro, kids are idiots. On, no, not that bit. I said something about how it was funny to watch them do daft stuff. I invited her to come back to FML to tell us all about it, and maybe do some promotional work, get the word out. "This is why I chose to illustrate this particular FML, my son could've been behind it. I thought it would be great to illustrate it with him in the FML. Because that's him that I've drawn, and me too!"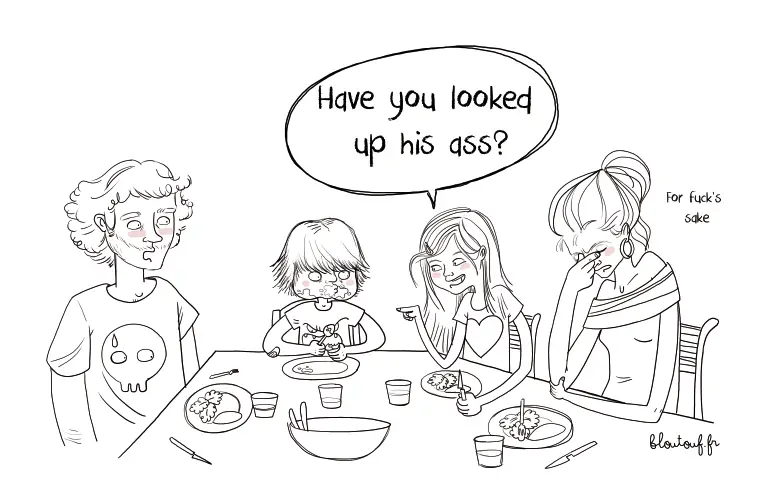 And what's in store for her now? "I'm giving myself a year to produce more illustrations… My ideas come quicker than my illustrations. But I also have to eat, and most of my time is used for work." It may not seem like it, but Bénédicte works a lot, for lots of different clients and… OK, I'll let her tell the story. "There's a lot of them, and they're always in a hurry, but when it's time to pay me, they're not so much in a hurry all of a sudden! I'm still working for our environmentalist friends and soon I'll be working for a Moroccan youth magazine. People call me more and more often to do comics, the transition is going smoothly, and that's cool. I used to illustrate nothing but environmentalist stuff, my dream was to create comics. Now I illustrate environmentalist comics… That's some form of progress! Soon, I'll only illustrate things that make me laugh!" Aaaah, to make a living doing what you love, that's the dream. If I could do that, I would be making money writing Facebook statuses like, "I've just eaten an apple". But there's not much money in that sort of creativity. Although, I did just write it on here, so you could say that it's the same.
We might as well have a chat, since we know each other pretty well. What did you do during the summer? "I was like one of the Gypsy Kings in my caravan all summer. I went from beach to beach tanning my ass. I also wrote and drew a lot in my little travel notepad. I spent the time I had left drinking beers, playing pétanque and eating chistorra in Spain." We didn't even get to see each other, I was in her neck of the woods while she was away, which almost made me cry.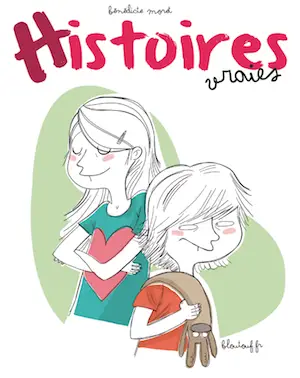 Speaking of families, she has started a blog. "My family and I are attempting an adventure that I'd like to illustrate all year, and it's an opportunity to unite all of my passions. I may talk a lot of bullshit all day long, but I'm very preoccupied by our environment. Everyone seems to think that it's boring, but it's not true… well, not always. This blog will allow some people to learn stuff, all the while being entertained by the humorous and committed side of the whole endeavour. Come and check it out! It'll motivate me to put more illustrations and articles online."
Anything else to add? "Do you know that Georges Clooney 2 is about to be released? I'm a huge fan and I'm not just saying that because my friend draws it!" Ah, great news! We had Philippe Valette on VDM (our french website) a while back and we love his humour, so maybe he could come back and do another one to coincide with its release? Could you ask him, Bénédicte? And tell him I want to cuddle him? Thanks.
There, that'll do. As you can see, the comic book's cover is ready to go. Yes, it's in french, "Histoires Vraies" means "True Stories". The title goes well with FML, because we also publish true stories; well, we try to. The fake and stolen stuff is removed as soon as it's proven that the story is bullshit. I'm only pointing this out because a lot of people ask me about this when I tell them what I do for a living, and I'm supposing that people who are reading this article might be wondering about this too. So Bénédicte and FML were made for each other, it's impossible to deny. And I'm not just saying that because she's my friend. The day the comic book is released and is on the shelves of local supermarkets, we'll ask her to come back and tell us all about how it feels to have her work in between the sausages and the cereal. And to find out whether her son has taken a dump elsewhere. As for me, I'll leave you with a song by a Swedish singer/songwriter that everyone should check out, and it's a special dedication as well. Have a great weekend and be excellent to each other.

What about you? Think you've got talent and want to contribute to the illustrated FML? Send us an email to [email protected] but only send us your blog's address and a few samples of your work. No need to create an illustrated FML straight away.
#1474 - Illustrated FML - On 10/02/2014 at 11:35am by Alan - 5 comments