Gragrou's illustrated FML
One day, cats will rule the world, but not today, there's a bit of tin foil stuck under the couch. The Internet and cats is quite the love story, everybody knows that. A very serious study that was done recently but that I completely made up has shown that if all the pictures of cats were removed from the Internet, all the computers online would shut down, unable to communicate due to a wrecked network. It would collapse like a plastic camping table being hit by a Chipotle burrito. Ancient Egyptians venerated cats like gods because they thought they were funny. This week we're taking a look at the relationship between cats and their owners, thanks to an illustrator who has captured the very essence of what it's like when people go a bit overboard. Here we go.
GRAGROU'S ILLUSTRATED FML
"Procrastinate. Eat. Cats. Take a dump. Sleep. Geek out. Cats. Procrastinate."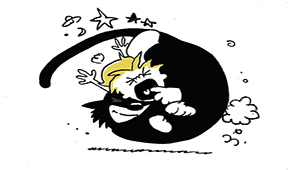 Self-portrait Gragrou by Julie-Anne



What on Earth is that moniker all about? No but seriously, Gragrou ? What a strange name. In real life, when you meet her in the street, her name is Julie-Anne, "Not Julie. Not Anne. Not Julianne, or Juliane. Julie-Anne." So now you know, write it down somewhere.

Her info:
Age: 26
Location: Metz, France
Blog: Her Facebook page
Her Illustrated FML: The one with the naughty pussy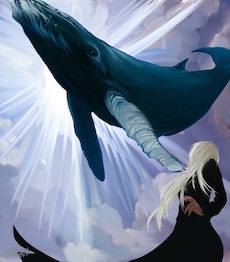 Julie-Anne reminds me of someone. When I asked her what she does for a living, she replied, "Does procrastinating count? Besides that, I like putting off until tomorrow what I could be doing today." Yeah, I know, she reminds me of me. I know all about dossing about. I look like one of those people that isn't doing anything. It's an affliction, even though I'm actually like a spinning top inside my head. People just assume I'm doing fuck all, but I'm incapable of being inactive. "On a more serious note, I've just set myself up as a freelance illustrator, but I lack the self confidence to go out and find clients in a serious way. So, this means that I eat a lot of pasta." With a bit of blue cheese melted into some cream, pasta can be really great. The lack of money part sucks, though. I'm sure something will come along, just... get out there!

Does she enjoy her situation in life? It certainly seems that way: "Drawing is really my whole life (I know, you probably can't tell graphically). It allows me to empty my mind (I needed to find a substitute to drugs!). What's missing from my life? Work! A job! I'm quite available for designing kittens for toilet paper for example." OK, so let's use this opportunity to send out an SOS: if anyone wants to hire Julie-Anne to draw kittens on toilet paper, or anything else on a different medium, she's available.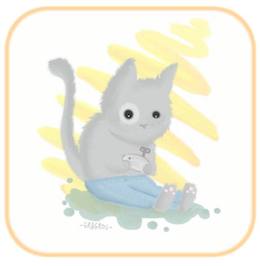 So tell us Julie-Anne, where do you come from, where are you going? "Ermmmm, nothing amazing… I got a high school diploma, then I went to art school, but I didn't like it so I quit, I did a few odd jobs here and there, then I set myself up as a freelance illustrator (my life is a series of misfortunes)." Hey, the whole "my life is a series of misfortunes" is MY schtick, OK? Speaking of which, this morning I did something... No, I can't tell anyone what exactly happened, but it involves having to flee a scene due to an intense need to take a dump. TMI, I know. OK, I'll be quiet now. Let's talk about Julie-Anne's projects: "For a start, I'd really like to find a job in illustration, so that I can buy proper pasta, instead of store-brand rubbish. Then, I'd like to win the lottery so I can do nothing for the rest of my life. But to do that, I have to start by buying a ticket, I know."

So, as you can see, she's a girl who's got ambition, a plan, she knows where she's going. Speaking of which, she's preparing something: "An exhibition (my first ever, wiiiiiiiiii) which should take place at the start of 2015. It'll be a big deal, something serious. Not pictures of me naked going apeshit while playing with my Gamecube (I'm an old-school geek, but I do have a PS3)." That's great, you'll just have to tell us where and when, because it's a bit vague for now.
When did she start drawing? "I've been drawing for too long to remember the actual thing that made me want to start, I fell into drawing when I was little. I remember that I read comics like the Smurfs and Thorgal (yes, complete opposites, I know) and that the first sentence I learned to read was "We're all going to diiiiie" from "Destination Moon", the Tintin book." And what about your inspirations? "My inspirations change from day to day, but like many bloggers, I adulate Boulet. I like Trondheim for his cynicism. Blacksad for his darkness. Calvin & Hobbes for the poetry, Don Rose for posterity. I have varied tastes, it all depends on my mood!" I can understand that, I feel the same way about music. Sometimes, I feel a bit melancholic, so I listen to some sad music, like The Cure, and other times, I want something happy and joyful, so I put a song on by... The Cure. What a band.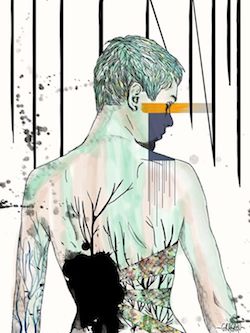 What about Julie-Anne's tastes, do you like The Cure? "Not long ago I saw a movie, but not in a movie theatre, called "God Bless America". Its humour was really edgy, I loved it. In music, I like Steeleye Span, an obscure band from the '60s-'70s. My boyfriend runs a record store, which helps me discover loads of new things. I recently read "Pardonne-moi" (Forgive me) by Jodi Picault, a really touching novel, but also very sad, so I'll avoid talking about it, it'll bum everyone out. As for TV shows, Black Mirror is chilling. And the latest comic book I like was "Fables Nautiques" (Nautical Fables) by Marine Blandin, a real gem!" I like the fact that Julie-Anne mentioned Black Mirror, it gives me an opportunity to mention once again Charlie Brooker, one of my favourite people ever, and a very funny guy.
So, what about your own FML to finish off? "I'd saved some money to buy a new computer (mine was made in the year 1000 at least). A short while after having it, and after my best friend had gone to the trouble of getting rid of Windows 8 (let's not beat about the bush here, Windows 8 is shit), my boyfriend had the great idea of leaving the blinds on the window too low, which stopped one of my cats from getting to its bowl. So, for revenge, he pissed on the computer (the cat, not my boyfriend), who didn't take it well. But this isn't the cat's fault, it's my boyfriend's (what a daft idea to put the shutter down so low!)." So, cats don't like computers? I knew it, it goes nicely with my opening statement about cats ruling the world one day, this time by urinating on our computers.
There, now, it's time to go off and enjoy our weekend. Thanks Julie-Anne for your illustration. Next week it'll be the welcome return of someone who's already illustrated an FML. If she manages to get her arse into gear. Yes, she's a friend of mine, and I can talk to her in such a cavalier way because she sends me awful, insulting text messages. She's releasing a comic book soon, so she's coming back to tell us all about it. Maybe. We might have a fight between now and next week, and she won't ever get to publish anything on here ever again. So, I'll leave you with a song by a little known band called The Cure, with an apposite song called Pictures of You. See you next week, and as Bill and Ted said, be excellent to each other.

What about you? Think you've got talent and want to contribute to the illustrated FML? Send us an email to [email protected] but only send us your blog's address and a few samples of your work. No need to create an illustrated FML straight away.
#1473 - Illustrated FML - On 09/26/2014 at 4:44am by Alan - 7 comments