Estelle's Illustrated FML
Hey, did you see that thing that happened ? Some guys dressed in white t-shirts kicked this spherical thing 7 times in between these metal bars, and the other guys who were dressed in yellow t-shirts (so we wouldn't confuse them with the other guys), well they only managed it once. And then a lot of people around the world went doolally. They absolutely lost their shit about it, like, some people reached inside their minds and colons and started flinging figurative shit at the walls. It was unbelievable. I didn't get it, to be perfectly honest with you. It was like watching an old episode of "Animals do the funniest things" on YouTube to me. Anyway, we're here to talk serious business, like Serious Cat would. We're going to talk work, jobs, job interviews, ninjas and chickens.
ESTELLE'S ILLUSTRATED FML
"I'm my own boss, and I give myself 27 weeks of paid vacation every year. I'm a pretty cool as bosses go."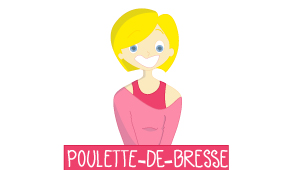 Self-portrait Estelle par PDB

OK, you're now probably wondering what the Poulette de Bresse thing is all about. Our artist of the weeks is called Estelle, but her nickname (and website) is called Poulette de Bresse, which literally means "Chicken from Bresse". See, she's from France, and she comes from a place in France called Bourg-en-Bresse, which is well know for producing chickens, and Estelle really identifies with chickens. Well, not really, but I secretly think so does. She's got issues as people insist on saying when they have no clue what they're talking about.
So, what do we know?
Age: 31
Location: Lyon, France
Blog: Poulette de Bresse
Her illustrated FML: The one about the girl on her way to a job interview...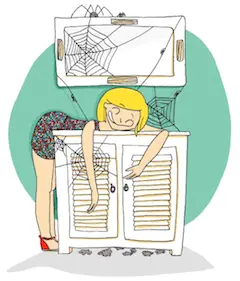 Estelle is talkative, but in a good way. She works as a self-employed illustrator, so she's her own boss. "I give myself 27 weeks of paid vacation every year. I'm pretty cool as bosses go." It's safe to say that she loves her job, because when I ask her what she specifically likes about what she does, she replies "EVERYTHING". It's quite nice read something like that, it's quite rare when someone actually likes their job these days. Everyone's so cynical about everything. People need to stop. Don't be like that. It makes Dora cry. "Drawing, think, imagining, eating a whole pack of Smarties instead of lunch because I didn't have time to cook, receiving e-mails that state 'that's exactly what we asked for' followed by others that say 'here's the list of the 140 modifications that need to be done', working out how much time I've spent working on something only to realise that I've only spent 10 more hours than billed, receiving the visuals that I've already printed, telling sad-sack stories in comic-book form, getting "likes" on my Facebook page, creating greeting cards, animations... Even putting together telephone directories is fun for me." Of course, like for many illustrators as well as normal people, she says that she lacks time to do stuff, especially now that she's gone "into a another time dimension" since she's had a kid. Kids are the end of your social life. My friend Charlotte only ever says, "I have to go pick up my son at kindergarten!" ever since she's had a kid. That was 28 years ago. That's my Stewart Lee homage done, on to the next bit.

So, what's her news, besides bibs and "Mommy Magazine, the magazine for modern moms who love to be Moms about town"? For the moment, she's all about the Facebook updates telling everyone about new items she's discovering that modern parents get to use. But she's got projects bouncing around in her brain-box, such as getting Poulette de Bress published, but "for that I need to send a mock-up version to various publishers, and to do that I need to actually make the mock-up version, and to that I need to (here comes the glamorous turn of phrase) pull my finger out." She also wants to make her company a viable one, and to be paid in something other than beer kegs.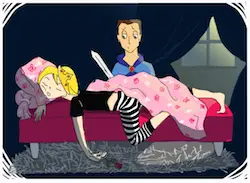 The way she started out in illustrations and publishing have a charming back story: "The event was a sort of FML. A friend and I were ATTACKED by masked men (well, the were actually 3 short children with woolly hats on) who threw grenades at us (it was actually snowballs). The situation was ridiculous, so I drew it and published it on Facebook. That's when everyone told me, "You should make comic books" ("And you're unemployed, you've got nothing better to do"). So I created my blog two weeks later and it's my friends comments, then friends of friends comments which boosted my confidence.

What about her everyday pleasures, her vices and passions, besides drawing? Yeah, because all the illustrators who tell me that "More drawing" is their vice is getting old, people. "It's quite simple: seeing that the weather is nice and means that I'm going to be able to go for a walk, when I've finished/validated a job, when my little boy gurgles at me, when I eat asparagus (because eating vegetables gives me less of a guilty conscience, but the mayonnaise is for the protein); when I get a request for an estimate; when I go on a shopping spree; when I take up sporting activities again (a walk once a year); when I have a nice beer in the sun... Simple things. My vices? Laziness. There are days when I'm terribly lazy. If I could empty my dustbin before it started leaking, I wouldn't have to clean it."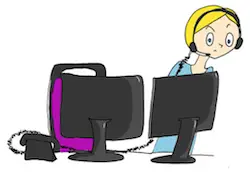 She admires other artists, she will check out websites belonging to Nathalie Jomard, Margaux Mottin, Pénélope Bagieu and... "Pampers and my local supermarket, are they considered artists? I spend a lot of time on their websites..." I also suspect that she has some sort of fantasy involving Ryan Gosling but I avoiding asking any questions, I'm scared of chickens and guys with heads shaped like aubergines.

How about a little personal FML to finish the article? "My mother turns up with a little packet. "Here, it's from your grandmother." I find inside it a fabulous stripper's thong, all strings everywhere and diamonds. Surprised, I ask, "Why is she giving me a thong? I'm going to look like a piece of roast sow in this thing!" My mother then says, "She wants you to have it because she bought it for herself but it turns out that it's too small for her." Classy.

That's it for this week. I'd like to thank Estelle the Chicken from Bresse for taking part, as well as her enthusiasm. It's a real breath of fresh air. Next week, all this football bollocks will be over, so we will be able to go outside again without fear of electrocution from all the static electricity generated by the shitty team jerseys that people insist on wearing. And with a bit of luck, the weather might actually turn nice; we might dance around in Johnny Clegg trousers to the sound of James Brown or Sly Stone, in spiritual harmony, no longer held back by cynicism, hatred or greed. We can dream, eh? Until next week, remember to brush your teeth, be excellent to each other and to once again quote the wonderful Sophie-Marie Larrouy: "Slow down on the cynicism, okay?"
What about you? Think you've got talent and want to contribute to the illustrated FML? Send us an email to [email protected] but only send us your blog's address and a few samples of your work. No need to create an illustrated FML straight away.
#1460 - Illustrated FML - On 07/11/2014 at 9:08am by Alan - 6 comments