Loyd's Illustrated FML
So, how are the first few days of summer working out for you? OK, I know, the southern hemisphere isn't concerned by my opening statement, but it's hot where I am right now, and I'm self-obsessed. As much as I like Australian culture like, erm, what was that show about the school? Anyway, sorry, but it's summer over here. It's Beach Boys sort of weather. Speaking of music, this week's artist has a particular musician he likes to use as medication. Read on.
LOYD'S ILLUSTRATED FML
"My hero is Johnny Cash. An all-natural anti-anxiety medication since 1932. Just a bit of Daddy Sang Bass, and I'm ready to roll again!"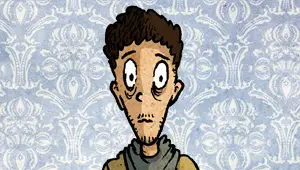 Self portrait, Loyd by Théo
This week it's the turn of Théo, also known under the moniker as Loyd. I will only refer to him as Loyd throughout the article so I can pretend he's the guy from Entourage.

Let's get some sort of bullet point thing going on:
Age: 19 ans
Location: Lyon, France
Blog: The world of Loyd
His illustrated FML: The one about the girl who...
OK, so, a strapping young lad of 19. A man with the world at his feet. People might be wondering why I've put the links in the middle of the article like that. It seems that reading about the artist is too much for some people, and that things need to be clearer for people in a hurry. I hope this will do.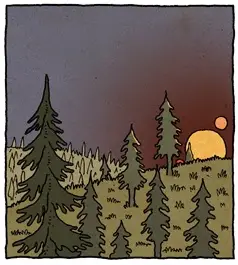 Loyd, then. He's entering his third year in an art school which specialises in illustrations/comic books/animation, where he went to to study comic books exclusively. "I'd say that it's beyond a choice, my passion is such an obsession that it's as if I didn't feel capable of studying anything else!" He says he lacks time to rest but would like to have more comic book lessons every week, as in more hours. Steady on there, pencil boy!
He made a name for himself on 30joursdebd, and created videos "of exquisite humour and taste" with a friend, and they've created a comic book fanzine, "thanks to which we got to present and sign our work at the Franzine festival." Oh, and he makes cookies with his girlfriend. He says he was a cooks assistant for a week, so they should be good, right? Yes, we would like some please.


And how about his projects? "For the moment I'm working on a comic book project that I'll be working on during the summer vacation and the send here and there in September. Fingers crossed. Other than that, with my video buddy, we're preparing a web-series with a real team of pros, so if you're interested it'll be called Failures and should be out at the end of September on our Youtube channel! In the meantime, you can check out our antics, there's twenty or so." That's quite a lot of stuff in store, good going!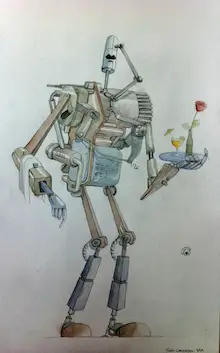 He says he was mainly inspired by Joann Sfar and that his favourite biscuit is "without a doubt the round, spirally cookie that's full of butter. You know, the one that's really rich and is a big mistake to eat a whole box of for breakfast. Good luck to anyone who has, and get well soon."
The latest stuff he's enjoyed are Mandela, the long road to freedom, the movie about Morgan Freeman being constantly being mistaken for Winston Mandela after having acted in the movie about Winston Mandela.In comics he recommends "Blast" by Larcenet and "as for TV shows, I've just discovered True Detective and its... MY GOD WHAT A SHOW." Yes, it was OK, but as I've said many times before, it was not as good as Knight Rider. The original with the amazing David Hasselhoff. Was there a remake? There'd better not be. I'll start cutting people's bollocks off if there's a remake. Balls on the road, nim nim nim. Oh, and he recommends the wonderful, magnificent Glory Owl comic strips, "the best strips ever, after Calvin and Hobbes".

And what does he do for enjoyment? "What I like to do above all is eat sunflower seeds, and watch the empty shells grow into mounds besides my computer. It makes me feel powerful. And what I hate above all else is watching someone eat bread with nothing but mayonnaise on it. Just thinking about it makes me angry. Besides that, I like watching the sun go down over the horizon while humming a Jean-Jacques Goldman song while drinking some almond milk (I'm joking!)". Be careful Loyd, no joking about Jean-Jacques Goldman. Some of you, well, most of you are probably wondering who Jean-Jacques Goldman is. Well, he's one of the most popular french singers ever. He's written for dozens of people. He's made a fortune. He's... well, have a listen for yourself. I'm British, I grew up on the Beatles and the Smiths. Moving to France was a cultural shock. Speaking of phobias (no real transition there, but I'm drunk on power), any phobias? "I'm afraid of Scutigera coleoptrata. You don't know what they are? Have a look on Google Images and you'll soon find out. They're everywhere in the summer in my apartment and they can be at least 15cm long. They're AWFUL. And they can bite. And jump." Ew, I'd run a mile in broken glass on my cock to get away from one of those.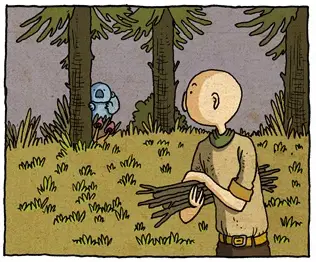 And to finish off, how about a nice little personal FML? "When I was twelve years old, I was getting ready to go to school with my best friend, until on the way there I realised that I was wearing my full pajamas, complete with blue and with bear heads, which complemented to a t my flip flops. Charisma like they don't make any more. FML"
Yes, that could've been on our list. That's all for this week, thanks to Théo/Loyd for his work and kindness. We're going back beside the pool to get a nice tan... No, not really. We live in a really shit part of town. There used to be a swimming pool round here until Fat Mark threw a Ford Escort wheel into the shallow end and the council closed it down. Our town is grey. Our underpants are grey. Life is grey, it's was great here in the '80s, now it's just... Oh sorry, wrong meeting. Next week we'll be receiving a pony that can paint with its dick because it can. Until then, be excellent to each other, don't call your parents because it's too much stress. Once a year is enough. Watch the World Cup, it's like, football. Oh and stop arguing that Football and Soccer are two different terms, or that Football is hand-egg and Soccer is the American name for the thing that was invented in Britain. Soccer is also a British word, it comes from Association Football. Rugby used to be called Rugby Football. Soccer, Rugger. Get it? So there, you've learned something totally irrelevant, maybe. Bye bye.
What about you? Think you've got talent and want to contribute to the illustrated FML? Send us an email to [email protected] but only send us your blog's address and a few samples of your work. No need to create an illustrated FML straight away.
#1458 - Illustrated FML - On 06/27/2014 at 9:29am by Alan - 3 comments