Eddy Maurice's Illustrated FML
For many, the weekend means parties, fiestas and getting right royally ripped off your tits on booze with your mates. But beware, excessive drinking while only eating handfuls of peanuts can lead to embarrassing situations. We're going to learn all about these easily-avoidable situations with our guest of the week.
EDDY MAURICE'S ILLUSTRATED FML
"My projects? To carry on drawing Tintins as my grand-father used to say."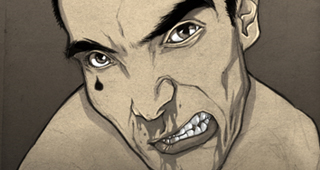 Self portrait Eddy by Laurent
Eddy is from Rouen in France and he's 38. He's been a graphic designer for the past 17 years, a "creative job which require a lot of curiosity". As most of the artists that we receive, he's got a blog, which is quite excellent. He's done an illustrated FML which is also quite excellent and reminds me of a few times that I wish I didn't remember, due to the fact that it's about the bad side of alcohol excesses and the black outs that can happen if you over-do it. If you've never known the joys of waking up after a party and though, "What did I do last night?", good for you. It's horrible. You then have to call round and ask, "What did do? What did I say?", then the memories come flooding back, out of focus at first then more and more specific until the point where you want to hide under a tarpaulin at the bottom of the garden. Never again. Until the next time.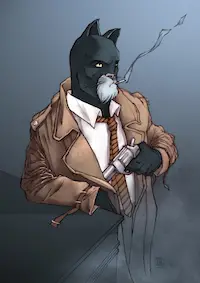 Eddy doesn't admit to having many projects at the moment, besides "to carry on drawing Tintins as my grand-father used to say." For those of you who don't know, Tintin is a famous cartoon character from Belgium and is well known around the world. If you've never heard of Tintin, what are you doing on the illustrations page? It's like going on a music page and never having once listened to Revolver by The Beatles (hint, do it now, especially "Tomorrow Never Knows", the ace up the sleeve of any Beatles fan when confronted with anyone who says The Beatles just were a wishy-washy pop band).

Anyway, that's enough about that, what does Eddy like? "I haven't liked any movies recently, but I have been eating up a load of TV shows. The biggest slap in the face was True Detective, and before that was the last season of Breaking Bad. I like The Walking Dead a lot, Game of Thrones and Homeland." A man of refined taste, then. Except that whole Game of Thrones thing, I just don't get it. Everybody talks to me about it as if it's the second coming of Knight Rider (ie. the best TV show ever), but I couldn't make it past the first 15 minutes of the first episode. I'm not a hater, I can understand that people enjoy it, but when I tell people I didn't like it, it's like I've said I don't like chocolate, children and kittens. Help!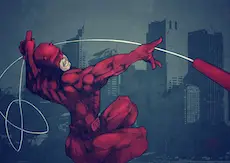 And what about Eddy's favourite artists and stuff? "I still like Vatine and I love US comics : Madureira, Humberto Ramos, Travis Charest, Olivier Coipel, Dave Mc Kean and especially MIKE MIGNOLA !" And what about your personal life? "Right now I'm really into Hearthstone, Blizzard's online card game, it's by the creators of Warcraft. I'm totally addicted. It's all I do on my iPad. I'm also a huge science fiction fan. And another fan who's disappointed by the movies that have been released these past few years. The last movie I wasn't disappointed by was District 9." I've written that one down on a Post-it note for a forthcoming movie night.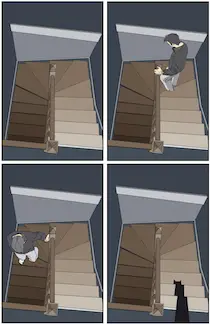 And to finish off the article, how about his personal FML? Do tell all. "A few years ago, early morning, I was shaving when someone rang the bell at the foot of my apartment building. I'm not the kind of guy who shaves every day, despite my extreme hairiness. I was halfway through when the guy rang the bell, and I don't know how but whoever it was managed to jam the bell, so it was continually ringing. I couldn't take it, so I went downstairs in a hurry to unjam it, one side of my face clean shaven, the other still covered in shaving foam. I leave my apartment in boxer shorts and a t-shirt, and I slam the door… A DOOR WITH NO HANDLE. So, there I was, stuck outside, having to go to a nearby friend's place in my underwear and t-shirt to call a locksmith. FML"

Yep, we'll call that an FML all right. Thanks Eddy for taking part, for your great illustrated FML and yadda yadda yadda. Don't forget to check out his blog. Next week we'll be checking out a mysterious illustrator, who comes from a mystical place. Know who it is yet? Oh really? I don't. Well, I do, sort of. Until next time, take care and be excellent to each other.

What about you? Think you've got talent and want to contribute to the illustrated FML? Send us an email to [email protected] but only send us your blog's address and a few samples of your work. No need to create an illustrated FML straight away.
#1453 - Illustrated FML - On 05/30/2014 at 12:38pm by Alan - 8 comments