Alx Factory's Illustrated FML
Asssiiiiiibooonangaaaaaaaaaa ! Why ? Why not. It's time once again to check out the deranged mind of another artist. OK, I only said that as a weak joke, but you have to admit that some artists are a bit odd. Van Gogh and his missing ear. Salvador Dali sending a pot of semen to his dad along with a note saying "we're even". Oh and the woman who tried to restore that Jesus painting, she was obviously off her rocker. But this week, we're getting to know someone quite respectable, I promise.
ALX FACTORY'S ILLUSTRATED FML
"Everything is summed up in 4 steps: the milk, the white chocolate, the small buns and all 3 at the same time."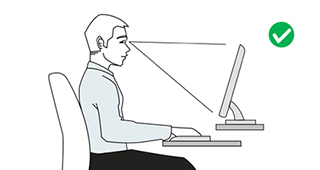 Self portrait Alexandre by Alx
This week we're welcoming Alexandre, AKA Alx Factory. Strange name, I know, it reminds me of Andy Warhol's famous Factory, and the wonderful Velvet Underground, a band I love with all my heart. He's 29 ("I failed the entrance exam for the 27 club"), lives in Honfleur, France, and has a blog which is here, which is full of his very stylish stuff. He's done a great illustrated FML for us, check it out.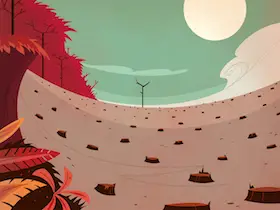 If you remember from previous weeks, I'm shit at drawing. Here's proof. It's a drawing of Beyoncé on live TV eating a fig roll. So Alx's art boggles my mind. I'm guessing it's done with computers and stuff. Anyway, let's crack on and get to know the guy.
After high school and three months at university, he went to art school. Something tells me that the three months at university were a mistake, due to a broken GPS or a hostage situation. Once he got his diploma, he went to Brussels to study comics. He got another diploma there, and then launched himself into illustrating, and is currently working as a freelancer as a lot of illustrators seem to do.
What's he into? "The creation process! All the time spent creating a world beyond the image and losing myself inside of it until it is finished. Then, going on to another image, and so on. With regards to the job itself, without hesitation, the uncertainty of the future. Not knowing where I'll be in six months or what my contracts will be, and saying to myself that everything is possible." Wow, it's pretty rare to hear someone be happy with the things are going right now. I'm usually quite scared of not knowing where I'm going. That's why I take lots of drugs.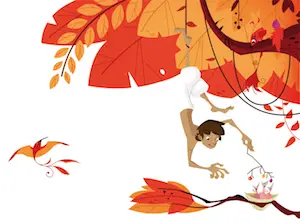 Alx's news right now is mainly about a 5 page article for the British magazine Photoshop Advanced. "It's an illustrated tutorial. It's not a huge deal, especially for my bank manager, but I've at least got the impression that I've passed a massive psychological turning point!" He says he has loads of projects, but won't tell me any of them, even under the threat of torture. I was even going to sing him my version of that sexist nimrod Robin Thicke's godawful "Blurred Lines" to try and get him to comply, but I didn't, no one deserves that.
Amongst his heroes, he cites Walter Sobchak, suggesting he should be president. As for his inspirations: "Banal response alert! Everything is a source of inspiration! To tell you the truth, I find out my inspiration sources at the same time that everyone else does, once I've finished an image. That's how I realize that certain movies, certain records or certain chance encounters have made an impression on me more than I thought. Sometimes, I realize after several hours of work that a picture that I was proud of was in fact way too influenced to be honest, and then I get depressed for the rest of the evening."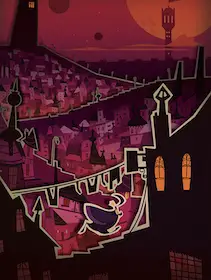 He does end up by giving me the name of someone who influenced him, who gave him the impetus to draw in the first place, and thank God it's not Jesus Christ: "An illustrator/graphics designer neighbor who fascinated me when I was 10 years old. Him and his workshop which smelled good of cigarettes, jazz and oil-based paint. He had his own goals, his own work hours, his workshop. It was my definition of happiness, even though he worked like mad."
He tells me about the things he likes, and says he enjoyed The Grand Budapest Hotel at the movies, and Mysterious Skin by Gregg Araki gave him "a big slap in the face" (I concur, it's a great movie), as well as Morse by Tomas Alfredson. Music that gets him going is stuff like Hooded Fang, Warpaing, Pantera, Ghost B.C., and Die Antwoord (I really don't understand why so many people like them). "Drawing gives you a lot of time to listen to music, it must be hard to like drawing if you don't like music."
We end up this interview with his own FML-like anecdote: "I didn't want to take part in the annual school carnival. Officially, it was mandatory, so I had a brilliant plan: I wouldn't bring a costume! But I hadn't thought about my maths teacher, who had her heart set on seeing me in the parade so she set about making me a costume representing "the night", a garbage bag to be worn like a sweater and some charcoal for my face. I was thus good to go all around town with a smile!" Since then, he reckons he has a phobia of garbage bags, charcoal and math teachers.
So, thanks Alexandre for taking part in this week's illustrated FML section, it was a pleasure to have you with us. It's now time to go outside in the sunshine and live life in three dimensions. Before you do so, remember to go check out his illustrated FML. And remember to be excellent to each other. Talk to your neighbors in the street, in the fields, remember that other people are just as neurotic as you are, so don't be afraid. Make some friends. Be friendly. Be good. Have a great weekend.
What about you? Think you've got talent and want to contribute to the illustrated FML? Send us an email to [email protected] but only send us your blog's address and a few samples of your work. No need to create an illustrated FML straight away.
#1441 - Illustrated FML - On 03/28/2014 at 5:37am by Alan - 5 comments