Yohan's illustrated FML
It's here, it's 2015. Big whoop. I'm told that the start of a new year is the appropriate moment to reflect on the year gone bye and ask ourselves why we did what we did, all the while thinking about our station in life. Is everything pa...
By Alan / Friday 2 January 2015 16:27 /
It's here, it's 2015. Big whoop. I'm told that the start of a new year is the appropriate moment to reflect on the year gone bye and ask ourselves why we did what we did, all the while thinking about our station in life. Is everything panning out for you? Is the coming year seeming joyful and harmonious, or is it another series of shitty events that are getting ready to pile onto your schedule? On FML, we know that any time of the year is open season for crappy experiences of all kinds. Heartbreaks that stretch over months at a time, screaming kids in long train journeys that are taking us home from stressful family Christmas vacations, thumping your little toe against the corner of the coffee table for the 15th time this week, the cat chewing through the Walkman headphone's wires… OK, a new year can mean a new start, but… why does everyone get all excited about it? This week, we shine a spotlight on a particularly crap New Year's Eve, and due to the submissions we've received, many of you have suffered through some this year.
YOHAN'S ILLUSTRATED FML
"
My greatest fear is to be 50 years old and realise I've let my life pass me by!
"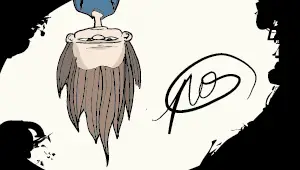 Self-portrait Yohan by Yposs



Yohan is also know by the nickname Yposs. I won't tell you his name, but it's easy to find out with a little guesswork, his nickname and Google.

His info:
Age: 30
Location: Paris, France
Blog: Et alors ?
His illustrated FML: The one with the best friend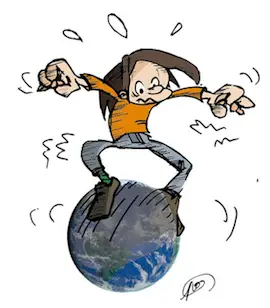 This week, we're celebrating the new year. Happy new year to everyone by the way. Yes, I forgot to say it. It's a social misdemeanour these days. You HAVE to say it. It's already been mentioned in the article we posted around midnight on the 1st of January, but this time I'm saying it in a calm and non-drunk manner. But on the other hand, last year I wished a happy new year to a lot of people who went on to have really shitty years, so maybe I have a curse, and I should say the opposite, just to even things out. So, to all of you, may you have a crap new year, and may things suck big time!

Yohan is a graphic designer. Another one in this column. I get a lot in these parts. He "appreciates the creative aspect of the profession." And he's quite creative, you just have to check out his blog to be convinced. How did he get to where he is today? "I went to a graphics design and webdesign school in Paris, and I've had loads of jobs, from server, salesman to real estate negotiator." And now? "For a while now I've come back to my first love which is comic books, so I'm working on large scale comic book project." His main project is this a comic, but we don't know anything more about it. We'll just have to check out his blog now and again.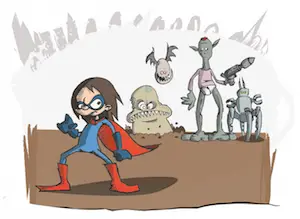 His hero is the famous french cartoon character Gaston Lagaffe. But what made him want to start drawing? "All the comic books that I read in my childhood, I wanted to transfer the sensation I felt through my own drawings."
What does he like? Any hidden vices? Any dreams? "My dream would be to go to sea for several months, or more. On a sailboat, alone against the immensity around us. A sort of homecoming, back to our roots. But before I can do that, I draw to escape. I have too many vices to list." Aaah, the sea. I lived near the sea for almost two years, it was wonderful. Even in winter. Especially in winter, when all the tourists have cleared off back home. There's something poetic about watching waves crashing onto rocks while listening to the Vengaboys on a Walkman. I now live in a huge city, and it's magical too, but in a different way. One day, I'll return to the sea, to the solitary life, just me and the woman I love.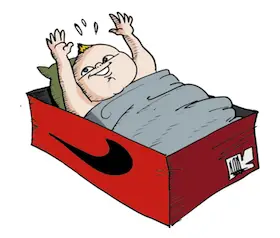 So, what sort of things are you into at the moment? "Lately, I saw Enter the Void, the film is old-ish but it's really good. I recommend it." And how about artists that you appreciate and whose blogs you check out? "Franquin, Claude Serre, Boulet."
To play us out, how about a personal FML? "Today it's late and I can't buy any cigarettes anywhere. I go out into the street, hoping to bump into someone who I can bum a cigarette from to roll a joint. By chance, I run into someone, and I ask him. He was very friendly, and with a smile he asks me, "Is this to roll a joint?" I say yes, and it turns out that I was right near the police station and it was policeman taking a cigarette break. FML" Oh, bad bad bad luck. Some people will say that you deserve it for smoking in the first place, but those sorts of people are as annoying as the people who smoke in public places where they shouldn't. Get off your high horses.

That's it for this week. We can go back to resting after the festive season. I don't know about you but next year, I'm getting a package deal with a plane ticket to a all-inclusive hotel in the sun, far far away. No more stress inducing family get togethers. No more waiting til midnight to jump up and down. Anyway, here's a picture which could metaphorically represent all of us going back to work, and a song by Gravenhurst to chill out to, which also doubles as an RIP because the guy sadly died recently. Next week, we'll be continuing the "Welcoming in the New Year" theme with another illustration along the same lines, a sort of "two for the price of one" deal. Happy New Year, and as always, be excellent to each other.
As always, if you think you've got talent and want to contribute to the illustrated FML, send us an email to [email protected] but only send us your blog's address and a few samples of your work. No need to create an illustrated FML straight away