Tom Cochien's Illustrated FML
It's Friday again, and all week we've had the Easybeats' song on our mind. So here we go, time to kick off our platform shoes, lie down on the couch, turn on the TV, watch some Seinfeld re-reruns and imagine a time when life wasn't so...
By Alan / Friday 23 May 2014 07:36 /
It's Friday again, and all week we've had the Easybeats' song on our mind. So here we go, time to kick off our platform shoes, lie down on the couch, turn on the TV, watch some Seinfeld re-reruns and imagine a time when life wasn't so complicated, and people weren't so jaded. Sorry, I wasn't talking about you guys, you get jokes, right? We're all friends here, we can speak candidly, so let's welcome this week's artist and start the show.
TOM COCHIEN'S ILLUSTRATED FML
"My hero is Angus McGyver, his wisdom, intelligence and humour embodied under a mullet and a bomber jacket."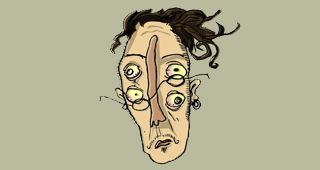 Self-portrait Tom by Cochien
When I started writing these articles, I didn't know much about cartoons, drawing or art in general. But I do know what makes me laugh. I'm British, so I do have a certain sense of humour. A decent or shitty one, depending on where you're standing. As for cartoonists and comics, I was aware of the work of the mysterious Pierre la Police. No one knows who he (or she?) is, but his work has made me giggle for years, so when I came across this week's artist's work, I seemed to recognise a certain kinship between them, so I contacted him to offer him a spot, and he said yes and did this for us!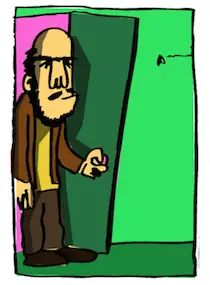 So, who is this dude? His name is Tom Cochien, he's from the south of France and he's 23. He's got a blog, a website, and you can even find him on Soundcloud under the moniker Koshrimp. He's a student, "supposedly learning how extract what's in my head onto 50x65 sheets of paper". He also works in a school as a monitor, "a job that consists of try to resolve conflicts between packs of enraged children at lunchtime in a primary school". He also has an interesting explanation of why he draws: "I can't really say that I like to eat, sleep or breathe, I just need to. Drawing is the same." He recently created a poster for the town of Aix in France, as well as illustrations for several books, "which should show up very soon! I'll talk about them on my blog. And every month there's my comic strip series 'In the primary school where I work" on 30joursdebd." His projects include "a story which includes supermarket aisles, a man with a balloon head, a cult and... I've already said too much. Watch this space." OK, we'll be here, especially since I often feel like a man with a balloon for a head.
Humour-wise, his work is somewhere between real life (with the stories taken from his job at school), but also sometimes flirt with surrealism and the absurd. This sort of humour is sometimes difficult for some people, who have a hard time understanding what's so funny about it. Too much hard work, you have to get your brain into gear. That or you just have to be twisted and damaged. A bit like a radio station you need to tune into by twiddling the knob with great care, Tom broadcasts his humour on his own personal frequency. I have the same problem with my own brand of jokes, if you can call them that. Sometimes I'll post a comment or an article poking gentle fun at shitty bands or mocking someone for not thinking things through, and I'll get death threats from some loons who totally missed the point and who haven't laughed at anything since 1998. I guess everything is subjective, so let's forget about it, otherwise I'll start crying again.


Tom studied to be a librairian, but preferred to switch and fill up books with his own stuff rather than lending books out. His inspirations include Winschluss, Cha, Hergé, Hugo Pratt, IAM, The Cure, Gorillaz, Edgar Allan Poe, Patrick Baud, "and music with booming bass and loads of reverb." I can dig that. He also mentions the TV show Black Mirror, which I recommend also, Charlie Brooker rules.

What about everyday stuff he likes? "My morning shower, drawing, watching weird horror movies, answering questionnaires, checking out obscure Estonian doom-sludge-occult bands on the Internet, drinking coffee and procrastinating." I'm still stuck on the last one. And maybe doom-sludge, with SunnO))).

To finish off the interview, what would his own FML be? "Today, I work in a primary school and all the kids call me Harry Potter. FML" Weird, a lot of people would consider that to be awesome. Anyway, thank you Tom for taking part. Everyone, remember to check out his illustrated FML, we'll certainly tune in to follow your carreer progression. Any last words before we go? "I've tried to become friends with the cockroaches but I guess they're still a phobia of mine." OK then. Same here. See you all next week!

What about you? Think you've got talent and want to contribute to the illustrated FML? Send us an email to [email protected] but only send us your blog's address and a few samples of your work. No need to create an illustrated FML straight away.