Sev's Illustrated FML
It's the weekend again, and this time, the illustrations section is coming all the way from the countryside. Yes, FML is knee-deep in forests, animals, animal dung, and we think we might have spotted some of Bambi's relatives trying to steal...
By Alan / Thursday 15 May 2014 15:48 /
It's the weekend again, and this time, the illustrations section is coming all the way from the countryside. Yes, FML is knee-deep in forests, animals, animal dung, and we think we might have spotted some of Bambi's relatives trying to steal our hub caps. Anywaaaaay, let's check out this week's illustrator, who's not trying to steal anything besides our hearts and minds.
SÉV'S ILLUSTRATED FML
"I've got an idea for a book for kids... floating around in my brain... but nothing concrete..."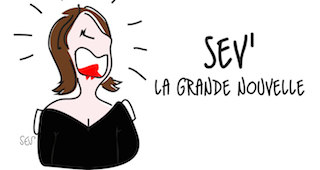 Self-portrait Sév' by La Grande Nouvelle
This week, we're welcoming Séverine, AKA Sév, who also goes by the same "La Grande Nouvelle". This in French means either "the tall new girl" or "the big news". You can understand that, at first, when she wrote to us to offer to illustrate an FML, I thought it was a subset of the Jehovah's witness dudes back to talk about that dude on the cross or whatever it is they like to talk about. But no, she's a lady from Toulouse, France. I used to live there, but there's no favoritism at play here, I only just found out when asking pressing questions like a mad Columbo. She'll be 40 soon: "Big party happening in June. If my neighbors are reading this, I have to warn them: we'll be making some noise!" Good, we'll be there.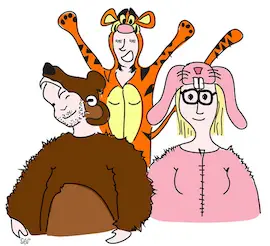 She's a freelance artistic director; I'm not sure what that means, but her current activity is "launching my blogs. Speaking of which, how do all the others bloggers get loads of happy people to read theirs?" Well, an article and an illustration on FML is a good start. She has a blog here, and a Tumblr here. Have a look, go on, do it, do it now.
She also has two children, but we can't really find fault with that, to each their own. Oh, but there's something that I can't let slide. She says she likes the music of Shaka Ponk. Now, to an audience outside of France, this name probably doesn't mean anything, but check them out if you need cheering up. Bad English accents, shite music, over-complicated-we're-so-kooky song titles. I hate them more than my ongoing itchy crotch rash.

As with a lot of illustrators, Sev' says she lacks time to do what she wants to do, but with two kids to deal with, it's understandable. "I REALLY like my job. My kids think I have fun all day with my electronic drawing pad, which is kind of true... I like images, colors, I like having an idea per second, doodling, things that go fast..."
I have to admit that during my badly thought out illustrator's career, I liked the idea of being able to quickly doodle a joke or something I'd just thought of. Sev's thirst for doodles comes from the same sort of place: "It's quite recent. I've always drawn for my job but the idea for my blog came from a weekend away with friends where we played Taboo, and I thought to myself that I could draw all the silly moments in life and make something funny, and it would force me to get better at it, to produce stuff, to draw. I still haven't found my 'style' yet." I think she's getting there, because we wouldn't have followed up when she wrote to us if she didn't have that certain 'something'.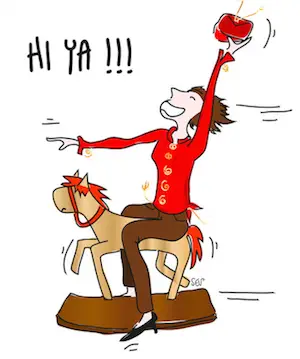 So, what does she like, besides that awful band? "I love my husband!" I should bloody well hope so! "I like to party, very big parties!" Well, she certainly did the right thing by moving to Toulouse, then. "My passion, even though I've sort of stopped for a couple of years, is improvisation. I was part of the amateur league." She also admits that her vices include M&M's and Ben & Jerry's Cookie Dough ice cream, but that's true of most people. She mentions the pleasure she gets from "kissing her kids goodnight, with rituals like the rock, the helicopter, the ripping of the blankie, etc., and being able to share truly funny moments so long as their childhood allows it." She also hopes to draw them as they grow up. So watch this space. Speaking of spaces, she speaks highly of our friend Pénélope, Margaux Motin and Mary Gribouille.

To end the interview, what would her FML be? "Recently, my son had 10 friends over for his birthday. We were all outside with some of the parents who had stayed for a drink, when one of them wanted to leave... Except that one of the kids had shut the bay windows from the inside, meaning that there was 15 of us outside waiting for a locksmith. Who arrived an hour later. All the while, the kids asking, "When do we get the cake?" Argh. Whoever did it never owned up. Little shits."

This is why I'll never have any children. That, and the fact that I can't get any action due to the fact that I'm useless at seducing women, with my penguin waddle and shite jokes. I leave all that to the specialists. Anyway, thank you Sev' for everything, I can live my life by proxy! Here at FML, we thank you for your illustrated FML. Next week we'll be receiving someone else. Until then, enjoy your weekend. Try not to be too sad about the cancelation of Legit, even though it was a great show. Here's Jim Jeffries on drinking, but try not to overdo it tonight. Ciao.
What about you? Think you've got talent and want to contribute to the illustrated FML? Send us an email to [email protected] but only send us your blog's address and a few samples of your work. No need to create an illustrated FML straight away.