Monsieur K's Illustrated FML
Neighbours, everybody needs good neighbours. Right, that's this week's Kylie Minogue reference done with, let's get on with the show. It's the weekend so it's time to delve once again into the murky waters of the world of illustr...
By Alan / Friday 4 July 2014 15:39 /
Neighbours, everybody needs good neighbours. Right, that's this week's Kylie Minogue reference done with, let's get on with the show. It's the weekend so it's time to delve once again into the murky waters of the world of illustrated FMLs, and I promise that no references will be made to that World Cup thing that everyone seems to be banging on about at the moment.
MONSIEUR K'S ILLUSTRATED FML
"I don't have a shitty life. Things just seem to look good to me. Or maybe I only remember the good stuff."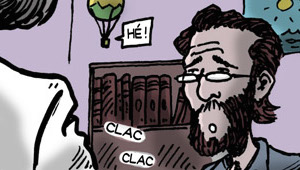 Self-portrait Monsieur by K.

This week, we're welcoming Monsieur K. OK, so all I know about him is his moniker, Monsieur K. I've left the French "Monsieur", because it sounds classier. He's a mystery wrapped in a shroud stuffed into a quandary, a bit like UFOs, Swedish girls and people who use homeopathy. But as I've learned, subjects such as those should remain unquestioned, otherwise men in black turn up in vans and rearrange your kneecaps with big sticks, so let's leave it at that.
A quick look at his details:
Age: 39
Location: Montpellier, France
Website: His Facebook page
His illustrated FML: The one about the neighbours who...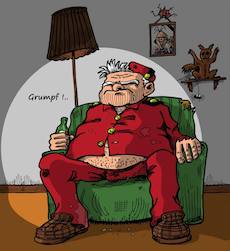 These last few times, I've welcomed a few young artists. I'm not saying that Monsieur K. is an old guy, it's just that when he speaks, you can tell he's been around the block a few times: "In my life I've done a few more or less useful things, little self-produced films, music festivals, an adorable daughter, a few low-end jobs to get by and some memorable hangovers, but recently, to avoid things getting too out of hand, I've decided to concentrate on doing only one thing: making comics." Like many artists and creative people, he uses his talent to escape the mundane: "Real life is not always exciting, more filled with trivialities and problems than marvelousness, so I like to hide away in a bubble we'll call fiction. Comics in particular are remarkable because I don't have to chase after money to move forward and I can remain master of my own domain, in front of my drawing board. I decide the rules without having to argue with anyone else than myself, and with no collateral damage or victims."
As for his news and projects, he's launching his first self-edited comic book called K-World, and you can get a copy if you contact him directly. As for projects, he's creating an alternate history story with Phil Barnson. "The first book is underway and is called "The shadow of the Beast." Its backdrop is history's greatest mysteries and the revelations will be astounding."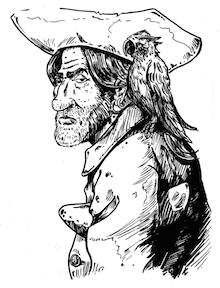 Food and inspiration: He recommends diversity when selecting biscuits, which is a great way to live your life. When asked where his passion for drawing comes from, instead of replying "your mom" like everyone else would, he revealed that he was a bit like Newton and the apple: he got his inspiration from a fruit: "I've been drawing since before my memory can recall but what I do remember is copying old Tintin albums from the '50s, in Brussels,at my grand-mother's, eating raisin bread, with grape juice. So I think it all comes from grapes."
What are the latest things he's liked? "Erm... the problem is that my memory is terrible so I repeat myself. Check out Kubrick's movies and read Franquin's "Dark thoughts" comic books. After which, it's like with biscuits, I suggest diversity. There's a lot of good things out there, you can't beat curiosity." I couldn't agree more. You can find some wonderful things by looking around and being nosy, instead of waiting for someone to dish it out. Something tells me that if I was to sit down for a pint with Monsieur K, the conversation would soon sound like two grumpy disappointed but passionate old men, and it would be great!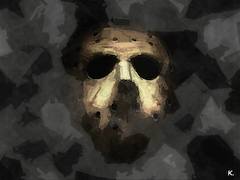 Speaking of being passionate, what about other stuff than drawing? More drawing I suppose, right? "All my vices and pastimes, passions and everyday pleasures have all been recently concentrated towards drawing. I stopped drawing when I was 20 to do a million other more or less constructive things (usually less) and now 20 years later I've decided to become single-minded. See you in 20 years to see how it worked out." I'll see you there! I'll probably still be grumbling at young people who still haven't listened to and loved the first three Velvet Underground albums, or considering that a house that doesn't contain a copy of "Psychocandy" by The Jesus and Mary Chain isn't a home.

A final thing to say about his personal FML: "I don't have a shitty life. Things just seem good to me. Or maybe I just remember the good things. It's better for your mental health to believe that you're lucky... even if I always get the postman ringing the doorbell for me to sign for something on the only day I could've stayed in bed until noon."
Yep, we're lucky. Think about it. We're reading FML, on computers or smartphones. Many of you are on vacation or are planning them. I'm not, though. No beach for me. As the late great Bill Hicks used to say, people at the beach are all tanned skin, white teeth; I'm all white skin, tanned teeth. No, this summer, I'm staying indoors and watching Big Brother UK, drinking non-alcoholic Jack Daniel's and cokes. Yes, they exist. I swear on the baby Jeebus. Anyway, time to go for this week. Here's the JAMC that I mentioned earlier to play us out. See you next week, and as always, be excellent to each other.
What about you? Think you've got talent and want to contribute to the illustrated FML? Send us an email to [email protected] but only send us your blog's address and a few samples of your work. No need to create an illustrated FML straight away.