Mélie's Illustrated FML
Whatever happened to that girl who sang about Fridays? Here at FML, on Friday, we usually release our weekly illustrated FML. This week, so many things happened, I couldn't begin to describe them. No really, I couldn't. Oh, go on then, maybe...
By Alan / Thursday 7 August 2014 10:02 /
Whatever happened to that girl who sang about Fridays? Here at FML, on Friday, we usually release our weekly illustrated FML. This week, so many things happened, I couldn't begin to describe them. No really, I couldn't. Oh, go on then, maybe a bit. Today for example, it's apparently International Cat Day. As if the feline invaders needed a special day to be all about them. They've already got our chairs, our beds and our laps. One day, cats will rule the world, but not today, there's a bit of tin foil trapped behind the couch. Anyway, this week we're not going to be splitting hairs, let's get right on with it. Booyakasha.
MÉLIE'S ILLUSTRATED FML
"If you see a girl in public transportation carrying a whole lot of stuff, a cat box, messed-up hair, an ugly sweater on, chances are that it's me."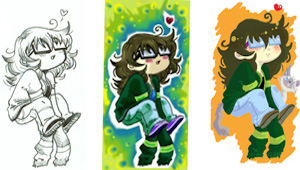 Self-portrait Mélie by Mélanie



Mélie is her nickname, and illustrating is her game. She explained to me the origins of her full moniker, which is Mélie Bacanarie, but it's so complicated that I'm not even sure I can explain it back to you off the top of my head. Oh yes, it's a contraction of her different family names, due to her having several of the things. But I won't give out her real name, because of attorney-client privilege. Or something. I should do, because she chose to illustrate an FML about haircuts and I haven't had hair on my head since the mid-'90s.

Her info:
Age: 23
Location: Montpellier/Yvelines/Paris
Blog: A Facebook page full of her illustrations
Her illustrated FML: The one about hair war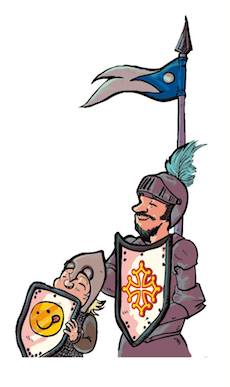 No blog. Odd for an illustrator, I know. I think it's the first time I've encountered an illustrator who didn't have one. She explains it so: "Unfortunately, for the moment I've only got a Facebook page, I'm trying to set up a blog, this summer. Trying is the key word, I'm not managing to do it very well. In the meantime, I use my Facebook page as a blog, putting illustrations on it and updating it every monday." And what a good page it is too, so go check it out, because it's quite interesting.

So, what does she do? "Globally, not a lot. I'm a freelance illustrator, so I'm used to saying that I'm 'always on holiday'. Which isn't strictly true; let's just say that when someone orders an illustration, I don't have a timetable, when an order comes along or a conference is approaching, holidays and weekends no longer exist. In those moments, I lose all notion of time. Once, I was so out of it that I asked people on Facebook what day it was. To simplify my answer, I'll say that 'I make doodles when asked'." She says that she lacks consistency, "I love the the rough, sketched part, creating a gag, a story, all the creative part of the process. Afterwards, when I have to fiddle about with the details, ink, make it look professional... Let's just say I lack willpower most of the time. I've always been like that, very enthusiastic in the beginning, but not so much towards the end." I think there's a psychological term for that sort of behaviour. I can't remember right now due to dehydration and a lack of vitamin C because I ran into my old friend Jack Daniel's last night, so my brain is not firing on all cylinders, but I think it's something to do with a fear of actually finishing something you've already started. I've got the same problem.
Does she have projects, or is she waiting for things to just pop out of nowhere? She's got loads! "I'm drawing several projects, too many you could say… At the moment I'm trying to draw comics called 5irth, r95irth and Damned. I've also got two children's projects on the go, and something to send to museums. This year, I worked on The Wanted Mag, whose page is on Facebook and on manfah.fr. It's a collective of comic book authors, all stuck between three genres: Mangas, Franco-Belgian and comics. So, with a few friends, we set up a magazine that comes out every six months and which publishes long, hybrid stories. We're inspired by journalistic novels and Japanese magazines." For someone who reckons she lacks consistency, she's certainly prolific.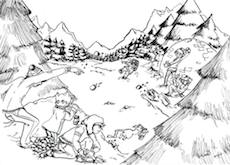 As for inspiration and influences, Mélie is all over the place. She's very influenced by Japanese writers: "If I really must name names, it would mostly be writers that inspired/motivated me. And unfortunately, there are a lot more Mangaku than Franco-Belgians or comic book writers." She cites people like Hiromu Arakawa (Fullmetal Alchemist), Jun Mochizuki (Pandora Hearts), Daisuke Moriyama (Chrono Crusade), Shinobu Othaka (Magi) and Miyazaki… People I've never really heard of due to me being an ignoramus when it comes to Mangas, but by whom I'm now intrigued.

Her perfect day? "Sleeping in, finishing writing a chapter, reading a good book, eating some chocolate and pancakes and ending the evening with a video game or a good movie. All this from my bed, with my cat on my knees and my friends and family talking to me via Skype. But days are never long enough to do all of that." We can try. Tomorrow is Saturday, I'm going to give it a shot. The 'sleeping in' thing at least. Mélie agrees. "I love sleeping! A lot, a lot, a lot. I love chocolate too, and it's the only foodstuff for which I'll enjoy the 'mandatory' side of mealtimes. Other than that, my passions are pretty logical. I love drawing, inventing stories and writing scripts. I'm on the Internet too often, talking about my projects, reading stories by young authors on forums. I'm not good enough with computers to be called a geek, but I like video games, mainly RPG."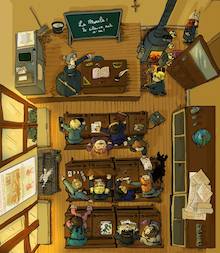 How about your own FML? "I think my most recent FML happened in the Paris underground metro. I was daydreaming with my headphones on, and I didn't hear the signal indicating the doors were about to close. There was a Me versus the Automatic Doors situation, and even though I tried running as fast as I could, they slapped me backwards. I got up, stunned, while the doors were closing again. I'm stubborn and I WANTED that train. Not a different one, not the next one! It was between it and me. I got up and ran towards it again. People seem to take pity on me and grabbed hold of the door so that I could get in. I stumbled in, saw a seat… and sat down, basking in the glow of victory. Then I almost passed out. The other passengers must've hated me!" Oh, so YOU were that annoying girl the other day, I remember you...
There, that'll do for this week. Mélie told me a whole bunch of other stuff, but I can't repeat everything on here, these blog posts are long and rambling enough as it is. So, don't hesitate to check out her Facebook page and contact her to ask her questions about stuff, she's quite fascinating (in a good way). I'm going to go back onto the couch and watch last night's Big Brother UK (Ashleigh FTW) because right now I feel like I'm floating in space, a feeling very well represented by this wonderful track by Oneohtrix Point Never. Thanks to Mélie for her illustration and enthusiasm, which is quite rare these days. Next week, no illustrated FML, it'll be part 2 of the "Summer on FML" blog. Until then, be excellent to each other, and may the strength of Angus Young go with you, whether you're on vacation or not.

What about you? Think you've got talent and want to contribute to the illustrated FML? Send us an email to [email protected] but only send us your blog's address and a few samples of your work. No need to create an illustrated FML straight away.