Matteor's Illustrated FML
MATTEOR'S ILLUSTRATED FML "It was like I was eating butter, but on a beach, and that I'd let the lump of butter drop into the sea and..."   Matteor by Matteo     Hello everyone. I know, the illustrations section looks ...
By Alan / Saturday 1 March 2014 05:17 /
MATTEOR'S ILLUSTRATED FML
"It was like I was eating butter, but on a beach, and that I'd let the lump of butter drop into the sea and..."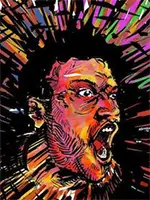 Matteor by Matteo
Hello everyone. I know, the illustrations section looks different. We though it might be time for a change. The illustrators will still be new people from France, the USA, from anywhere we can get our hands on, but we've decided to change things around a bit. The sentence at the top is just an out of context sentence, taken from the artist's interview. So don't worry, no, we haven't had a breakdown and started writing random sentences chosen from a book on a shelf. The picture on the right is this week's artist. It's obviously a self-portrait. Well, if that's how he imagines himself, well, does he have issues. No, he doesn't actually, he's rather nice!
So, who is this guy, and what does he want? His name is Matteo, and goes by the special AKA of Matteor. Which means he took his first name and added an R at the end. Clever. He lives in France, near Paris. Oh, I didn't mention this, but this is a crossover with VDM, our French website. This will be happening a lot. He told me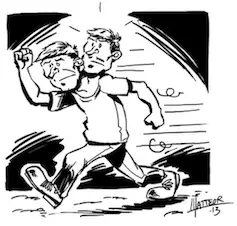 all about his life, and he created an illustrated FML for us. He also has a pretty nice blog, full of all sorts of cool stuff, like the picture to the right there (so go and check it out in context, but be warned, it's all in French!).
He's known since he was 5 years old that he wanted to work in drawing and illustration. Blimey. When I was 5, I just wanted to be Batman or stick pencils up my nose. He currently has an IT diploma, "so I could pursue my studies in something I really like, drawing." He currently has a job which allows him to feed his real passion which is drawing, cartooning and illustration. Of course, his job is illustration. He creates flyers, book covers, logos... but he has his own pursuits
So, where did you come from, where did you go, where did you come from cotton-eye Joe? Sorry about that. Where was I? Oh yes. He went to art school called Arc-en-Ciel, which means rainbow in French, for 3 years. It specializes in comics and illustration. "I came out of it with better skills and with greater creativity." Since then he's gone from job to job, illustrating along the way.
So, what does he like? "What I like is the creative process, whether in comics or graphic design. Starting with sketches, looking for ideas, to the finished product. Knowing that I'm satisfied with what I've done after weeks, or months of hard work."
In the same way it works for FML, the internet is his perfect source of direct feedback for his work : "I like to share what I create, on social networking sites as well as with people in the flesh, and see their reactions, and hear their criticisms. Well, we certainly wouldn't want to meet the public, we'd be split into pieces by a baying mob. Slung up! But we applaud his courage.
And what about his work and personal projets? Matteo tells us that he's an illustrator by trade, so he creates logos and book covers as we said before, but he's also working on a comic book project that he's likely to get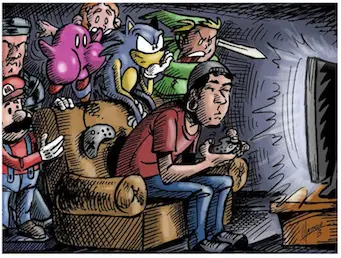 published. In that case, if there are any publishers out there who are reading this (hey, if I can lend a hand...). "Its content is based on small strips. The shorter the better." And what about his influences, his passions, his life. He says he really liked the last Daft Punk album, but we won't hold that against him. He enjoys a wide variety of French artists such as Gotlib, Maester, Coyote and Edika. He likes "Macadam Valley" by Ben Dessy. OK, fair enough, but what about his life, what is his thing? "Working on my comic book pages for hours while watching my favorite TV shows in a row, drinking a cold Coca Cola, while a lady gives me a thai massage." Sounds like our usual Saturday afternoon. He also likes to play video games, "even if I rarely play new ones, I prefer retro games. Because things were better before." That doesn't stop him from buying all the latest games consoles, "because I have to have them all."
That's FML's approach to illustrators. We have to have them all. Even cats that paint we want them all. Having to interview them might be tricky, though. Anyway, we would like to thank Matteor and his wonderful illustrated FML, we really liked it. We hope that you did too. We'll see you all next week for another illustration which probably won't be created by a painting cat, but it'll still be cool anyway. We hope. Until then, be excellent to each other.
What about you? Think you've got talent and want to contribute to the illustrated FML? Send us an email to [email protected] but only send us your blog's address and a few samples of your work. No need to create an illustrated FML straight away.