Matteor's illustrated FML #2
So, is everyone back from their vacation? Can we get back to regular programming? No? OK, I get it. You're all still crying about not being at the beach any more, well, I am anyway. And this time of year is pretty sad for most people because of...
By Alan / Thursday 11 September 2014 14:31 /
So, is everyone back from their vacation? Can we get back to regular programming? No? OK, I get it. You're all still crying about not being at the beach any more, well, I am anyway. And this time of year is pretty sad for most people because of daylight getting shorter and stuff like that. Unless you live in the southern hemisphere. Anyway, you mustn't grumble, it's not all that bad. Some people are professional grumblers. I can be a real miserable twunt sometimes, but this week I've decided not to be, even if the subject matter is sort of along the lines of keeping things bottled in a bit too much. Let's go.
MATTEOR'S ILLUSTRATED FML #2
"It's like I'm at the beach, and I've dropped the butter in the water and... Erm, I've digressed a bit."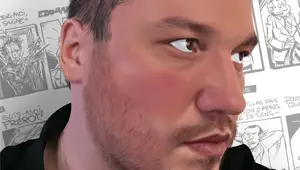 Self-portrait Matteor by Matthieu



Matteor is Matthieu (Matthew in English) and he's been here before. He already made an illustrated FML for us at the beginning of the year, and he wrote in to offer us another one. So we said yes, because we're nice. To find out who he is, you can check out the article that we posted at the time.

His info:
Age: 31
Location: Cergy, France
Blog: The world of Matteor
His illustrated FML: The one about the abs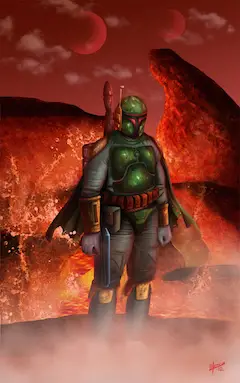 OK, of course, there's been more since the last article. Not a lot, so I'm going to explain a little bit about Matteor, but without doing a copy-and-paste job. I have to deserve my bread and water that I'm given to eat in the evenings in exchange for doing these articles. Since the last article and doing this one, I've realised that he's not called Matteo as I first thought, but Matthieu. Matteo is his son's name. Yes, he's one of those people who has chosen to reproduce. "I have two children, Matteo who is 2 and a half, and the second one Carlu (which is pronounced Carlou, very important) is almost 1)." So, why the nickname? Did the son come before the nickname, or was it the other way around? ""Matteor is my first nickname that I had on the Internet when I opened my first account on AOL (in round about 1999-2000), it was Matteo09 I think, and it was my dad who came up with it." Yes, but that doesn't explain why. The 09, is that something to do with a ZIP code? I doubt it, because he says he's from Corsica. "I go there every year for the summer holidays. I've returned well tanned." So, that means the son arrived after the nickname. This shows a real lack of imagination when it came to naming the fruit of his loins, calling his first-born after his Internet nickname. Matteo was lucky not to get the 09 stuck to his name, it would've sounded weird.

He lives in Cergy, which is in the outskirts of Paris. There's not much to say about that. I went there once in 1995. I'm not sure I'll ever go back. What does he get up to there? "I create logos, pictograms, posters, flyers and various other creations."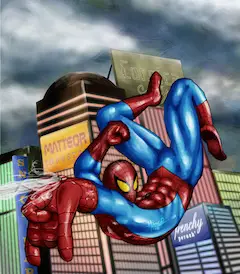 What's happened since the last time we spoke? "What could I tell you except that I worked with Piratesourcil for a few months on part of the script of the third tome of the comic book "Joueur du Grenier" (Attic Player) which came out recently." So, it's going well, if it's up to the third tome. I'm still waiting for someone to send me the first tome, I think I've deserved it after all the nice things I've said. Yeah, OK, I know, that's a lie. But sometimes I reckon it would be nice to have some sort of post box system where people could send me gifts, stuff from my many fans who... What do you mean I don't have any? I'll be quiet now, I'll let Matteo do the talking. "Recently I've started drawing portraits in Photoshop, like for example my self-portrait which is at the top of the article. I'm not smiling in it because somebody had just stolen my pellet gun. I've even removed the tears the model had cried. Yes, I was very unhappy..." A pellet gun? Is that an illustration tool, or an actual weapon? I'm not sure artists should be allowed to use weapons of any kind, I know what they're like. Be careful.
Oh, and important announcement: "I'm still having trouble finding a publisher for a comic book project that I've been working on for a few months on now". That was Matteor speaking, not me. I've got nothing to publish and I'm crap at drawing. He also adds : "I think I forgot to mention last time that I have a full-time job as a graphics designer in a business school." Oh, so he's a artist who works for a living, not one of these layabout artists who sponge off the state and think that... Nah, just kidding, I'm not a Republican.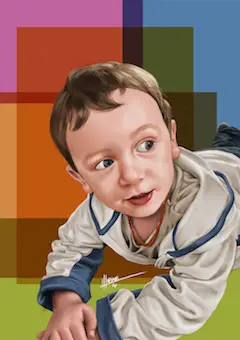 And when he's not working in business school, what else does he get up to? What does he like? "Most of my days are spent working on my art, creating comic strips, thinking of scenarios, all while watching YouTube videos or movies from the '90s that I've already seen 900 times. I do watch more recent movies, but not as often. My favourite movie is Blade Runner. The comic books I like are the series of albums by Edika from Fluide Glacial. The humour is very left-field, so you don't have to put much effort into thinking about it, it relaxes your brain and makes you laugh... I also like the Game Over concept by Midam." Anything else to add? "My favourite dessert is lemon meringue pie." OK, I think I've got all I needed.
Thanks Matteo, you may now go back to your family. Thanks for your contribution to this little page, and for your patience. It's really nice when someone sends in something that is clear and precise, no messing about, no to and fro about bits and bobs. Today is Friday, so we're getting ready for the weekend, I'm already in my jorts for '80s night at the Roller Disco, but maybe you who is reading this right now isn't, maybe where you are now is in the future, and it's 2078 and I've been dead for a long time, and cats have at last taken over, and this bit of text is all that is left of my passage on Earth. Oh well, never mind. I don't much care for sobriety. It's September so we're going to be listening to September Gurls by Big Star a whole bunch of times, because in September, you need Gurls. Or Boys, depending on your preference. See you next week.

What about you? Think you've got talent and want to contribute to the illustrated FML? Send us an email to [email protected] but only send us your blog's address and a few samples of your work. No need to create an illustrated FML straight away.