Loyd's illustrated FML #2
Friends, the end is nigh. According to our sources (meaning the people on the Internet who freak out about things they don't understand, like vapour trails in the sky or the basic chemistry behind vaccinations), the Ebola virus is right outside...
By Alan / Friday 10 October 2014 13:19 /
Friends, the end is nigh. According to our sources (meaning the people on the Internet who freak out about things they don't understand, like vapour trails in the sky or the basic chemistry behind vaccinations), the Ebola virus is right outside our doors. We're all doomed. It's over, people. Luckily, to boost the mood of a world going down the pan, David Guetta is back with a new song to cheer us all up. Wahey! So, let's all stay in the same party mood, and make the most of the time we have left to think about the things that make life worth living. Things aren't so bad, are they? We should all accept that we made some decisions at points in our lives, and now we get to enjoy the consequences. This week's illustration is all about what happens when you're not really careful when selecting a career, a reminding us all to think before signing on the dotted line. Check it, yo.
LOYD'S ILLUSTRATED FML #2
"To draw, I need my computer, my Dr Pepper and my bag of salted microwave pop corn. It reassures me!"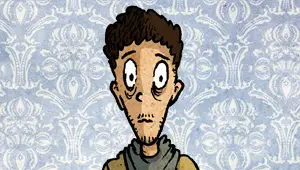 Self portrait Théo by Loyd



Do you recognise this guy? Yep, it's the welcome return of Théo, AKA Loyd. His previous illustrated FML was quite a hit, so we asked him to come and do another one. And he said yes, so here we go again.

His info:
Age: 19
Location: Lyon, France
Blog : The world of Loyd
Sa VDM illustrée : The one with the phobia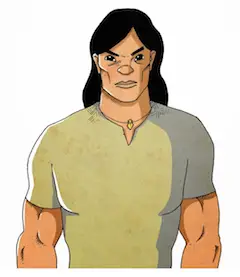 Théo/Loyd is from Lyon, in France. It's a nice city, located over there somewhere, and I think the population is of at least 17 people and a blind cat. What does get up to there? "I spent three years in high school there lounging around with disconcerting disdain, but I managed to get it over with in three years with a diploma in litterature. I had a specialisation in art history, which was nice but was way too long for impatient young man that I was, ready to start out in life (ho hum). Besides that, professionally, I've also been an assitant cook in a restaurant for a whole week. Does that count?" Yes it does, and that's perfect because I'm starving. I need feeding right now, despite the fact that I'm shaped like Homer Simpson.

That reminds me somewhat of what I was saying in the intro about life choices, and work and all that. Théo/Loyd has seemingly been around the block a bit before finding his calling, his niche, and the most interesting people I've met are usually people who've not yet found out what it is they "want to be". People who "know" what they want to be at a young age usually miss out on a lot of things. It's a shame to stick to your guns sometimes. In love also, potentially. For example, you can find yourself in a relationship for years and then come across the love of your life quite randomly via friends of friends, but life is cruel and you can't just up sticks and change your life, even though you feel electricity every time you're in presence of this new person. I'm not thinking of anyone in particular, no, honest, I'm sure there's a few of you out there who've experienced this. Loyd for example, he's been to an applied art school with a specialisation in illustration, comics and animation, but who knows, maybe in 10 years time he'll be a truck driver who plays in a Nirvana tribute band. Anything is possible.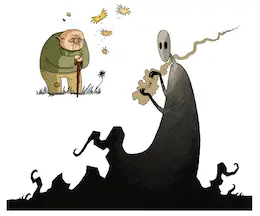 I have to copy and paste this bit. Yes, I know, it's a bit lazy of me, but it's the weekend, and I like frightening people with this thing. When I asked him if he had any phobias, this is what he said: "I'm afraid of Scutigera coleoptrata. You don't know what they are? Have a look on Google Images and you'll soon find out. They're everywhere in the summer in my apartment and they can be at least 15cm long. They're AWFUL. And they can bite. And jump." I'd said at the time, "Ew, I'd run a mile in broken glass on my cock to get away from one of those." I stand by those words.
So, what are his inspirations, what makes him tick? "I won't give you the whole spiel about "Oh me I've been drawing since I was little and my mum says that I used to draw beautiful dragons and that I had a gift for drawing and blablabla." What spurred me on was seeing other people create fantastic stuff, and it made me want to do the same. And it's still a big source of what motivates me today! If I had to designate an author who made me want to draw, it would have to be Lewis Trondheim. It's quite simple, I represented 90% of the ratio of his comic rentals at the library." Oh, and without forgetting: "My hero is Johnny Cash. A natural stress-reliever since 1932. A little bit of Daddy Sang Bass, and I'm good to go!"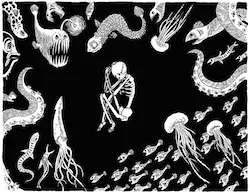 He also makes videos on YouTube : "With my friends, we're preparing a web series, called Failures and it'll be on our YouTube channel!" I mention it in passing because it's all in French, so if any of you feel like checking out some odd french guys messing about, feel free to have a look!
Right, that'll do for this week. Quick article, due to a weird week. Strange weather, Ebola making people lose their marbles and loads of people turning up to my apartment. And a chance encounter with someone who came over to take pot shots at my choice of wall decorations. Seriously, who doesn't love Joy Division? Strange girl. She's learning to make jewelry. I go all weird just thinking about… Never mind. Next week we'll hopefully be visited by someone from further north than usual. Until then, be funky, listen to some James Brown, don't forget to call your parents to tell them that everything is OK, that you haven't got Ebola yet. See you soon!
What about you? Think you've got talent and want to contribute to the illustrated FML? Send us an email to [email protected] but only send us your blog's address and a few samples of your work. No need to create an illustrated FML straight away.