Korrig'Anne's illustrated FML
So, have you ordered it? Have you got it? No? Yes? Do you have any idea of what I'm talking about? OK, for the normal people, I'm talking about the new iPhone 6. Apparently, it came out today. I'm not advertising it, it's just that g...
By Alan / Friday 19 September 2014 12:52 /
So, have you ordered it? Have you got it? No? Yes? Do you have any idea of what I'm talking about? OK, for the normal people, I'm talking about the new iPhone 6. Apparently, it came out today. I'm not advertising it, it's just that grown adults with actual mental faculties are queuing up for hours to get their hands on one of these things, even if they have a phone that works perfectly well. Why? I don't know. I shouldn't be too cynical. I was like that once. I bought a Smurf figurine. Then another. Then another. Then I had twelve of them. Then I wanted the Smurf house in the shape of a mushroom. It just never stops. Well, in my case it does, I was 10. This week's illustration is about the arrival of something you've been waiting for, but in this case it's a baby. The Apple cult members would probably put the iPhone on par with the baby, I'm not too sure.
KORRIG'ANNE'S ILLUSTRATED FML
"My hero? My uncle's cousin's hairdressers' cousin's little brother is a great guy!"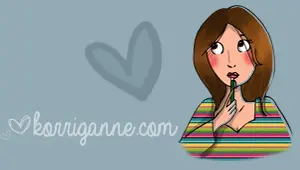 Self portrait Korrig'Anne by Anne



Korrig'Anne sounds weird to anyone living outside of France. It sounds weird to a lot of people who live in France. It's a play on words on a demon type creature from Brittany where Anne is from (the Korrigan) and her name. Still sounds weird.

Her info:
Age: 28 in a month
Location: Rennes, France
Blog : Korrig'Anne's blog
Her illustrated FML: The one with the dream about the baby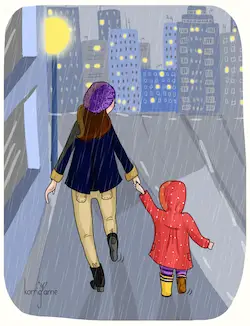 Anne is a mom, so maybe that's one of the reasons she chose this particular FML. Who knows? People who have kids, they've got it bad. It's supposed to be "the hardest job in the world", but thankfully, not everyone defines themselves through their progeny. So what else does Anne do besides raise kids? "After a first professional experience which lasted for 6 years and which wasn't very fulfilling (with a Tour Operator as part of reservations), life brought me towards drawing, and I started out on my own as a freelance artist this year." So, this is a brand-new career we have here. It's a good idea to come and spend some time on FML to show your work, a lot of famous people started out here. I won't name names. Oh, alright then. For example, David Duchovny and 50 Cent both started here. What does she think of her new life? "I love it! As my 4-year old daughter would say, "When I grow up, I want to do the same job as mommy, stay at home to colour". She gets it. My job is to do what I enjoy, what I like, when I like. If I'm not inspired, it's not a problem: I go for a walk, I do some cleaning, I have a nap and my inspiration will turn up later. When I put it like that, it sounds like I lounge around a lot, but I actually spend about 8 hours a day drawing (3 in the morning, 3 in the afternoon and 2 in the evening). I'm probably missing out on the "social" aspect of working in an office, but for now I'm not too bothered by it." I can fully understand this point of view. I spent 7-8 years working in an office, and now I can say that whenever I can work from home, it's the best thing ever!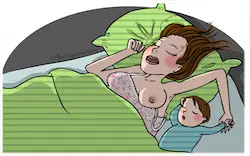 What's Anne's latest news ? "Well, the second tome of the Anita Casse-Cou (Break-neck Anita) which is being written by Aurélie Desrumaux is going forward smoothly, and I'll be starting the illustrations next month. I'm currently working on a 2015 calendar with 11 other illustrators, but that's a surprise. You'll know more in October!" I wouldn't mind a free calendar actually. Yes, every week I try mentioning something to get free stuff, but it never works, I've never gotten anything from this blog, besides chlamydia. Only joking. And what about projects, what's in the pipeline? "Getting better at drawing, finding my style, knowing my software better so that my work seems more professional. Maybe release my own book one day?"
What started her off in this line of work? "I took some time off work to have a second baby in 2012, and after that I decided to change direction, career-wise. I couldn't find what I initially enjoyed in the tourism business: art and heritage. Everything had become too much of a business. I started drawing as a form of therapy against a maternal burn-out that was starting to rear its head, I created my blog, I got my first orders and I was off." I know all about burn-outs. I've come close, but I've learnt to recognise the signs and my form of therapy is shouting, crying and rude hand gestures.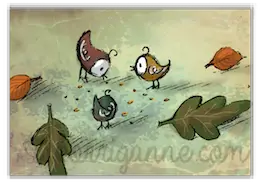 How about Anne's tastes? "The thing that I like the most recently is Caroline Simon's work. I love history, especially the renaissance era. I'm always up for Trivial Pursuit even if I lose all the time. I paint when I'm not drawing. I like taking time off in the countryside to listen to the frogs at night and the goats during the day. I'm really into TV shows, I watch a lot of them while drawing. I'm a huge fan of Game of Thrones, Rome, Spartacus, The Tudors, but also Veronica Mars and Desperate Housewives (older shows, but love watching them over and over again). I love Veronica Mars, and not just because of Kristen Bell. I swear!
How about a personal FML to finish up? "Every time someone asks me this sort of question, I always think of the time I was about 15. I wanted to get changed at the beach, and being modest and shy, I try to find a quiet spot, between two big rocks. It's when I heard the laughs and remarks that I realised that I was giving the people on the walkway up above some sort of show. I think I still haven't gotten over it..."
Right, that's enough for this week. Thank you Anne for your illustration and all the rest. Brittany, or Bretagne to give it its proper name, is cool, I've always thought so. I loved a girl in Brittany once. In fact, I think I loved her twice. Next week we'll be publishing a study about migrating yaks in Mongolia and... well, probably not. It'll be a surprise, like most weeks. Until then, don't forget to go out and buy a new iPhone, you know the illuminati want you to. Have a great week, a great weekend and be excellent to each other.

What about you? Think you've got talent and want to contribute to the illustrated FML? Send us an email to [email protected] but only send us your blog's address and a few samples of your work. No need to create an illustrated FML straight away.