Kiyan's Illustrated FML
As Rebecca Black once said, "Quick, hide the gear, my Dad might see you." Oh, right, no, she sang, "Tomorrow is Saturday, and Sunday comes afterwards," or something. That's more or less where we are now, which means it's illustration time he...
By Alan / Friday 14 March 2014 16:02 /
As Rebecca Black once said, "Quick, hide the gear, my Dad might see you." Oh, right, no, she sang, "Tomorrow is Saturday, and Sunday comes afterwards," or something. That's more or less where we are now, which means it's illustration time here on FML. In keeping in with that jolly, boisterous and boosted spirit, we're once again going over to Belgium, home of many comic book heroes such as the Smurfs, Tintin and Johnny Hallyday. This week, we're getting to know a young man from Brussels... Here we go.
KIYAN'S ILLUSTRATED FML
"I'm against the tyranny of cute kittens, even if no one can resist them (and I'm allergic, yuck)."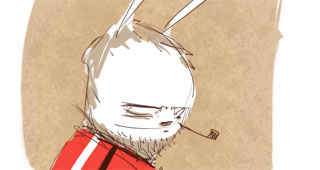 Selfportrait Kiyan by Kiyan
This week, it's Kiyan's turn to delve into FML's collection of stories to come up with an illustration for us. And what an illustration it is! You can check it out right here. So, who is this guy? As I said, he lives in Brussels, which if I remember correctly is in Belgium. Yes, yes it is. He's 30, and like all good illustrators he has a blog. What does he do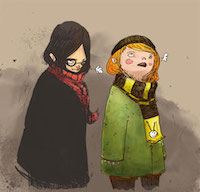 for a living then? "I'm an animator in an animation studio. I work on animated TV series. I'm more at ease on 3D animation, but I sometimes work on 2D animation, which I'm doing at the moment. I also draw my little stories on my blog, on webzines and fanzines, and other comic book platforms." When I was a kid, I used to watch a lot of cartoons, especially the Hanna Barbera ones, so this sort of work I can almost understand (as I've said before, I'm terrible at drawing, for proof, go here), and the crazy world of Hong Kong Phooey influenced me a lot when I was growing up, which probably explains a lot about why am I the way I am. But I'd never imagined going into this line of work, but Kiyan did: "Animation is a dream I had as a kid, comic books too. I do the first one professionally, the other as an amateur, but I hope to one day step it up a notch and become a professional comic book creator. In any case, I'm completely happy in what I do, generally. Not a lot of people can say that they have the job of their dreams. If I'd been told as a kid that I'd be creating cartoons when I was older, I wouldn't have believed it!" What Kiyan is telling us is a lot different to what I've been hearing the last few weeks from other illustrators, who seem to have a hard time making ends meet. A refreshing change.
On the other hand, he says he lacks time and a social life.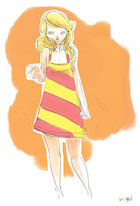 I'd say be careful, it starts out like that, then you end up being 42 years old, with two cats who you talk to about socks and floor polish. It seems that Kiyan is quite busy, so has he got time for other projects? Personally, when I'm very busy, my only projects involve cracking open a bottle of Jack Daniel's (yes, I'm giving free advertising in the hope that I'll be sent a truckload of the stuff as a thank-you) and dancing to New Order records. Sorry, I went off on a tangent about myself again, we're here to talk about Kiyan: "I've got loads of comic book projects in my head, I develop them bit-by-bit, but it takes time. At the moment, every month I post a new story on the 30joursdebd.com website. In the coming weeks I'll be taking over the new versions of the Bohorg webzine and RAV magazine, and also a story to be released with a collective with other authors sometime in the year. I'll keep you posted!"
So, what are his likes and dislikes? We share a perfectly rational hatred and fear of wasps and bees. I mean really, wasps, what do they want? Can't they just piss off, once and for all? "I have a panic-y fear of bees and wasps. I can become insane if there are any too close to me." What he likes: "I must admit that I play a lot of video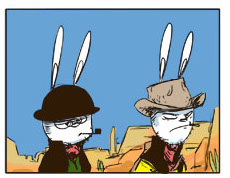 games (I'm a PC gamer, I don't own any consoles. There. I said it)." I'm not really sure what the difference is, I don't play video games, they annoy the crap out of me, I get all riled up and throw the controller at the TV and throw a hissy fit. As for the artists he likes, he mentions Timtimsia, Tony Sandoval and "Punk Rock Jesus" by Sean Murphy. Musically he told us about Billions of Comrades and Carpenter Brut. Oh and he seems to be addicted to chocolate, in a bad way.
That'll do for now. Don't forget to check out the illustrated FML that Kiyan did for us, if you haven't seen it already. I'm going to go back to my hovel and take some cold medication and chill out while listening to some Slowdive who recently reformed for a bunch of concerts. Next week we'll be back with another installment in our series of illustrated FMLs, this time, the cats who paint will be joining us with their take on the story about the man who got his penis stuck in a toaster. Or not. Until then, be excellent to each other.
What about you? Think you've got talent and want to contribute to the illustrated FML? Send us an email to [email protected] but only send us your blog's address and a few samples of your work. No need to create an illustrated FML straight away.