FML's Survival Kit #7
Hi everyone ! It's Thursday so it's time again to show you stuff that we've liked over the past week. We've gotten over Black Friday without broken limbs, and Cyber Monday was a bit of a damp squib, so now that it's December we ...
By Alan / Thursday 1 December 2016 13:23 /
Hi everyone ! It's Thursday so it's time again to show you stuff that we've liked over the past week. We've gotten over Black Friday without broken limbs, and Cyber Monday was a bit of a damp squib, so now that it's December we can get ourselves all worked up about Christmas coming round the corner. So, without any further ado, here's this weeks suggestions for stuff to buy for you and your loved ones!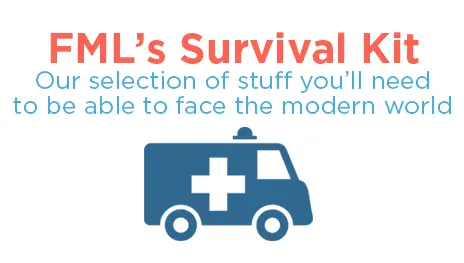 Our team, as most of you are, is really into gadgets, games and weird stuff to play with. This column will allow you to find out what sort of things we like, what makes us giggle enough to buy, but will also give you some ideas for upcoming events like Christmas, housewarmings, birthdays and other fun things. Check 'em out.
Give everything eyes

"I'm the kind of dude who likes to spice up my life by giving everything around a face. There's a technical term for it but I can't be bothered to look it up. Anyway, with this selection of 500, yes FIVE HUNDRED googly eyes, you can turn anything into a hysterical face. Or amuse yourself by defacing public property and/or adverts, posters and statues. It's really fun to do."

Fake my life

"As my grandmother used to say, if you can't make it, fake it. I've lived a pretty sheltered life up until now. I've never had a TV so I don't really know what the real world is like outside of the few streets I dare to cross. The first time I met someone with a foreign accent, I almost fainted. Anyway, this book will teach you in a very funny way how to fake your life. How to become a better version of you. Or just get for someone who really needs improvement. It won't be a subtle gift, but it'll go a long way to helping them be less annoying."

Take better selfies

"Ever since cameras have been incorporated into cellphones, the world has gone picture mad. We've been invaded by words like selfies, and the quality of pictures has increased exponentially. I can remember a time when a smartphone photo looked like a drunk robot's rendition of reality in shitty pixels glued together. Now, we can use gadgets like this one: a wide angle lens you just clip over your phone and hey presto, brilliant wide angle photos!"

It's the final countdown

"Ever wondered how long you've got left on that egg you're trying to boil? Ever need to countdown to something but always forget what time you started doing whatever you are doing? Fear no more: this handy gadget has all the major countdown times, you'll know exactly when it's time to take the eggs out of the boiling water because the final countdown has ended! It's really useful for anyone who enjoys time. Avoid getting one for a Timelord, they keeping fucking around with time."

Every home should have one

"It's a scratching post that attaches to the wall! How brilliant is that? I mean, it's everything I need in life, now that I've got Netflix and unlimited access to this thing. Get it for the cat lover in your life, they'll thank you for it because it's a vertical, flat, post, which works much better than the ones you lay out flat!"

Socks appeal

"OK, I think I've already featured something with unicorns on it, but I don't care. Unicorns are cool! As it's winter, sort of, you need socks, loads of socks, and these are pretty on fleek, I got several pairs to avoid running out of them. These will still be fashionable in ten years time, believe me. And they're a great gift for anyone with good taste. Get them now!"


Waterworks

"I love animals, and not just in a food sense. This fish tank is pretty cool, it looks good in my apartment and it drives my cats wild. I have to cover it up at night to avoid having a disaster on my hands, but during the day it's quite soothing to watch. It's easy to assemble, and doesn't take up too much room. Great gift for kids who want something to take care of."

Great for kids with brains

"I always try to encourage the kids around me, like my many illegitimate children scattered around the country, to take an interest in science and how things works, basically. So instead of the letting them dismantle the landline phone or the family dog, get them one of these gadgets. There's a whole range of things for them to learn from. I love them, and I'll be getting some more this Xmas!"

That's it for this week. Hope you enjoyed our selection, and maybe even bought a few things! See you soon.