Enutil's illustrated FML
It's Halloween. I didn't know how to broach the subject, but then the woman who intermittently shares my life (I'm kidding, she's my ugly, smelly cousin) remarked that the FML mentions blood, and that I should link it to Halloween. ...
By Alan / Friday 31 October 2014 15:04 /
It's Halloween. I didn't know how to broach the subject, but then the woman who intermittently shares my life (I'm kidding, she's my ugly, smelly cousin) remarked that the FML mentions blood, and that I should link it to Halloween. So now I'm going to pretend that I came up with the idea all on my own. Talent borrow, genius steals and all that. Living together is complicated enough without having to be careful about intellectual property laws. You can borrow each others ideas without becoming a plagiarist, surely? In any case, this week's illustration is all about partnerships, living together, the problems that can arise, communication issues and the ensuing bloodbaths.
ENUTIL'S ILLUSTRATED FML
"I like violence, debauchery, lust, alcohol, depravity and all the photos of those cute little baby iguanas that are so cutesy cute."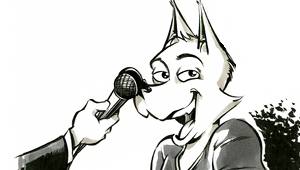 Self-portrait Enutil by Enutil



Enutil is a mysterious person. He only wants to be known under that one moniker. In French, it sort of sounds like "inutile", which means "useless". Already, his first personal FML is : "Turning up to a festival with this name."

His info:
Age: 30, "but it's not your age that counts, it's what you do with it."
Location: Rouen, France
Blog: Paradis d'anges heureux
His illustrated FML: The one with the cut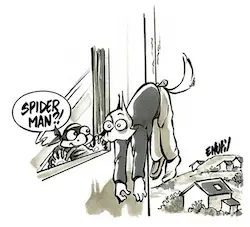 So, who's behind the name? I like discovering people, except in the shape of dead bodies under my bed. I could explain the story behind that remark, but it's still under investigation, and my lawyer has told me to shut my shitting mouth (apparently, it's legalese, I'd never heard it before). So, what have I learned about Enutil? He's from Rouen in France, he's 30 years old, he's "just passing through" life, and that he's never bored of what he does. OK, that's something.

What does he do? Where does he come from? "I'd always been more interested in literature. I hated maths and physics, and I was a total embarrassment in biology (a teacher once told me that she "pitied my girlfriend" when handing me back a paper I did on contraception. FML) So, I followed my destiny and did a diploma in science. Once I got the diploma (with a 4/20 in biology, the second time, because the first time I got a 5.... FML) I hadn't really asked myself what I wanted to do with my lift, so I did a course in computer science. It taught me a lot, mainly that it really wasn't for me. I stopped the bloodbath at the end of the school year to study thermic engineering, because I'd heard there were job openings. And it was true, once I had my diploma, I already had work." OK, that's a nice résumé.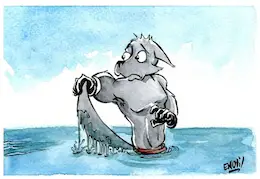 What about current news, what's breaking? "I'm going to have my first comicbook collection! Well, it's going to be 4 pages in the middle of a collective work of 330 pages, but... IT'S FANTASTIC!! (Envies d'ailleurs) Besides that, with people I used to collaborate with on "30 days of comics" we're working on a website project: Case libre. It'll of course be centred on comics, in all shapes and sizes, with a team of authors selected for the quality of their work. The team will regularly publish strips, comics and illustrations. The aim is to create a space where everyone gets their say, whether they're an author (amateur or confirmed), reader, or even publisher. The community aspect is the most important for me. There will be a forum as well."
Who is he inspired by? "Steven Seagal."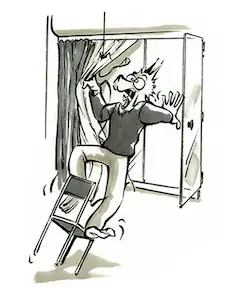 Let's get down to the nitty gritty: your projects. "Filling my blog, as always, investing my time with Case Libre and turning down a collaboration with Tarantino. Basically carrying on my series of strips "Bête", my stories about Jean-Paul Parfait. Ah and importantly, start my Al Killer (moron destroyer) strip again, of which a sequel should be with us soon. I need to get ahead on the drawing, to avoid making the reader wait for the story to move along."

What does he like? He seems to like Katy Perry a lot, seeing as he says that he misses her. So they must know each other. "Book: The Little Prince. Film: Prince of Persia. TV Show: The Fresh Prince of Bel Air. Comics: Bernard Prince. So, musically, obviously, everyone will have seen it coming: Nolwenn Leroy." If you didn't get the punchline to that one, Nolwenn Leroy is a french singer who does dirge-like ballads.

To finish off, do you have a phobia? The same as a lot of people, uselessnessphobia, the fear of becoming useless. An irrational fear that pushes people to share the gaping hole that their life has become across facebook all the while collecting as many "friends" as possible. There aren't any self-help groups that we can join to help with this kind of phobia. However, if you want to show your support to this cause, you can do so on this facebook page." Duly noted!
Another week, another weekend. Now go get dressy-dressed for Halloween, that's an order. My thanks go to Enutil for everything, I'm off to the coast to check out the sea and to drunkenly throw rocks in the water while cursing at the sky. Take care, be excellent to each other, and see you next week.

What about you? Think you've got talent and want to contribute to the illustrated FML? Send us an email to [email protected] but only send us your blog's address and a few samples of your work. No need to create an illustrated FML straight away.