Élodie's Illustrated FML
Aaaaah, the beach, the sunshine, cool water against our skin...  Nah, just kidding, I can't afford a trip to the beach. This blog is being written from a grotty apartment in the less salubrious parts of Paris, and it's brainmeltingly hot. M...
By Alan / Friday 18 July 2014 09:47 /
Aaaaah, the beach, the sunshine, cool water against our skin... Nah, just kidding, I can't afford a trip to the beach. This blog is being written from a grotty apartment in the less salubrious parts of Paris, and it's brainmeltingly hot. My undercarriage is stuck to my chair. Yes, I'm naked. Anywaaaaay, this week, we're soldiering on despite the heat, the football being over, we have to find other ways to keep ourselves busy and the thought of inevitable death furthest from our minds. On that cheerful note, let's talk stabbings and french fries with this week's guest!
ÉLODIE'S ILLUSTRATED FML
"If I was to meet a genie and he granted me a wish, I'd wish for Iron Man's armour. Or for it to start raining puppies, that would be cute."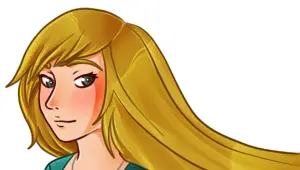 Self-portrait Élodie by Kororo
This week is Élodie week. I don't mean that in a National Holiday sense, although if she plays her cards right and gets even better at drawing, it could happen. I have suspicions that there's more than one person inside her head, because she started out by requesting some sort of anonymity under the name "K", which would've been confusing after having had the excellent Monsieur K a few weeks ago, and then she explains, "Hmmm, I think my plan to be anonymous is compromised because I talk about myself a little in my blog. Anyway, my name is Élodie and my nickname on the Internet is Kororo (it comes from the Shaman King Manga, it's the cute little ghost's name)." OK, so I'll just call you Élodie if that's OK, the rest is too complicated and I prefer Élodie, it's a nice name.

So, what are her stats ?
Age: 25
Location: Dijon, France
Blog: Koroko's little worlds
Her illustrated FML: The one about the stabbing incident involving a fork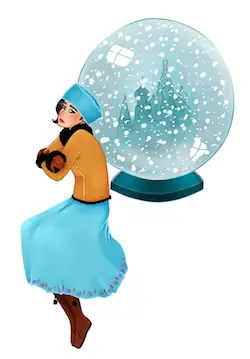 Dijon is famous for its mustard and... not much else. Maybe Élodie can change all that and become the most famous person to ever come from Dijon, if not from her artwork then maybe she can invent something in her spare time like a never-ending Diet Coke fountain. Speaking of spare time, she has a lot of it at the moment because she's "employed full-time, or should I say... actively looking for work". I won't comment too much on her situation, because some people will say, "But why don't you just get a job then?" And as Charlie says, "Oh, get a job? Just get a job? Why I don't strap on my job helmet, and squeeze down into a job cannon and fire off into job land, where jobs grow on jobbies!" Good luck in any case. She also has a Facebook page, so if anyone has anything to offer her, just get in touch. She's just got to 50 likes, so why not show your support and add your own. Be brave.

Has she even been to school? "Secondary education in environmental and workplace quality/security until last year." Get that, any recruiters out there? For the moment, her projects are basically "increasing the amount of drawings I've produced and maybe not one day make a career out of it. I have a lot of progress to make to actually consider it ever happening, but you have to have a dream." Yes, you have to dream about something, it's what keeps most of us going. I still can't draw, though. I've almost given up, the best I can do is crap like this. One day it might work out for me, who knows?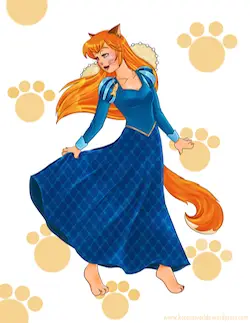 Élodie creates her artwork on her bed or on her couch, but when she's not creating, what is she into ? "Like many people, Japan and Japanese culture fascinates me, with Mangas and Pokemons (except Pikachu because he's a bit gormless) made me want to start drawing at a young age. I also liked arts classes in high school but I was one of the only ones! She also mentions being a fan of Game of Thrones. Hmmm. I think I've already mentioned this, but I just don't get it. OK, I'll keep my trap shut. She also likes Doctor Who, Dragons 2, Avatar the last Airbender, and, more in line with my own personal tastes, "I watch a lot of very intellectual TV shows when I'm drawing like Extreme Makeover." I can go along with that. Speaking of which, people who say, "Oh no, we don't have a TV in our house, so much crap on there, and it's but for little Tarquin's brain" really grind my gears. For a start, you sound really snobbish. And it's a terrible argument, especially when these very same people will then rave about Breaking Bad, Game of Thrones and The Wire, which were all MADE FOR TV. Hypocrites. You wouldn't stop going to libraries because they contain Dan Brown books now would you? Anywayyyyy... as for the artists Élodie appreciates, "AD_e because I like the humour she conveys through her drawings. Her ideas have a WTF quality to them ! Marlène Marques for the quality of her drawings and their style, and Tseumpfeuh because her drawings are beautiful, and full of little details (and her dog is cute) !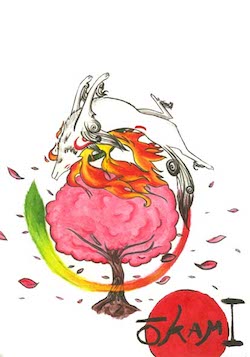 Élodie's passions and pastimes, her everyday life is a bit like everyone else's (and that's not a negative comment on my part): "I like finishing off the spoon of Nutella in the morning at breakfast, eating a certain brand of potato chips, eating... I could say that eating is a pastime, but then people are going to think I just feed my face all day. Other than that I like my 3DS with Professor Layton and Phoenix Wright." Damn, I feel hungry now. As soon as I've finished with this, I'm off down the supermarket to get some potato chips.
How about a personal FML? "One time I was in a shop, and I just needed a pot of Wasabi. I won a prize once I went to the check-out: my entire shopping trolley for free. FML" That's interesting, I'd always thought those stories about sirens going off at check-outs were urban legends. They DO happen? I'll have to be more careful. '

That's it for this week Élodie, it's been great having you on board. I'm not going to stick around for too long, it's too hot for that. I'm just going to leave you with a little bit of music, something that feels like summer and which is a sort of shout out to our Brazilian friends who must be feeling despondent since the football is over. Despite the fact that I'm British, I couldn't give two shits about football, but I do know that Brazil has given us Os Mutantes, one of the weirdest psychedelic pop bands of the '60s. They sound just right in the summer. I'll see you all next week, so until then, be excellent to each other.
What about you? Think you've got talent and want to contribute to the illustrated FML? Send us an email to [email protected] but only send us your blog's address and a few samples of your work. No need to create an illustrated FML straight away.