Calomiel's illustrated FML
Put down your pens, the exam is over. Come on, hand it to me. Don't you think I can see you in the back there? Yes, you, trying to add a few last touches to your illustrated FML. Stop it right now, or I'll get you suspended from FML's Sc...
By Alan / Friday 20 June 2014 12:44 /
Put down your pens, the exam is over. Come on, hand it to me. Don't you think I can see you in the back there? Yes, you, trying to add a few last touches to your illustrated FML. Stop it right now, or I'll get you suspended from FML's School for Lost Causes. Yep, in many parts of the world right now, loads of students are taking exams and parts of their anatomies are sweating profusely from the pressure. Nice image. Here at FML, we managed to find one high school student who had the time to make us an illustration and send it to us in time for the weekend. So, let's have a look.
CALOMIEL'S ILLUSTRATED FML
"As far as I'm concerned, store-brand budget chocolate shortbread cookies are fine by me,
ha ha."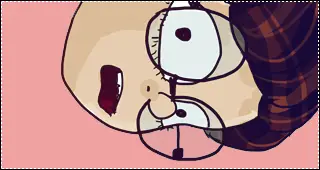 Self-portrait Calomiel by Calomiel
This week, it's yet another bloody kid. Sorry, a kid. Yes, I'm a grumpy old bastard. Calomiel is 16 and she lives near Paris in France. She's currently taking her end of the year exam in French language and literature. Next year will be her final year in high school. She made this illustrated FML for us, and it's mighty spiffing as a character that Hugh Grant might play in a movie would say.
Of course, she has a blog which contains all her work and the usual bloggy stuff. It's in French so you might want to grab hold of your neighbour who talks with an accent to help you out with the jokes. I don't know her real name, though. She won't tell us. "I never give my real name, just to keep a certain mystery going." I'm guessing she means in relation to her illustrations, not say if she were driving around on a motorbike with a hole in the exhaust and no crash-helmet and the police pulled her over and started shouting at her. Or maybe she would say that, because she's absolutely bonkers. Who knows with these artists?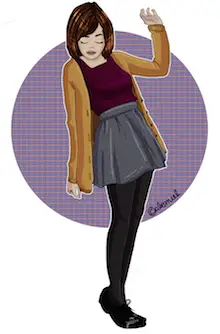 So, Calomiel, or whatever your name is these days, tell us what is that you like about your life. "I like starting from scratch, a simple white sheet of paper, to create little by little a character that I give life to, or an imaginary world that allows us to dream... It's this idea of creating, that's the main thing I like about drawing." This is an idea that is often mentioned by the artists and illustrators that I get to talk to in this column. It requires a talent for drawing which certainly don't have, as well as a hefty dose of imagination. Being able to draw people isn't enough, you have to be able to put them into different contexts and conjure up scenarios. Calomiel also speaks about the of the freedom she has to "invent anything, according to what I'm feeling at the time". It's true that it must be nice to be able to create alter egos and make them do whatever you feel like. For example, another "us" who would do whatever we don't dare do in real life. Without going too far, of course. Imagine your cubicle co-worker finding your doodles of her being run over by a steamroller; you might be misconstrued as a sociopath, no matter how good your drawings are.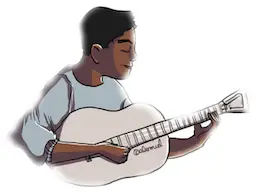 Her projects include travelling the world, but to be able to travel, you need money, and as she's really into procrastinating, she's a long way from getting on that plane. So, nothing really in the pipeline at the moment, she draws for herself, and that's good enough for us. She's always done drawings, and loved arts classes in middle school, "except my teacher in 6th grade who was horrible" (a big shout out to you Mr Horrible, then). "But a few years later I discovered the blog called Yatuu, and digital drawing, and I gave it a go. I haven't stopped since, and for the past year I've been practising realistic drawings, portraits, etc." And very good they are too.

Speaking of favourite artists, she mentions Diglee, Margaux Motin, Miss Holly, Télégrammes, Marie Crayon, Barty and ZLGM. Carrying on into the theme of tastes and stuff she likes: "I LOVED: The Secret Life of Walter Mitty. Superb. Magnificent. And then there's "The Fault in Our Stars" by John Green. It's the first time I almost cried while reading a book, which is saying something. I can't wait to see the movie." For someone as bitter as me, I like seeing someone so enthusiastic about something. The only times I'm that enthused about something is when I realise there's some hummus left in the fridge when I thought I'd run out, or when two guys start a fist fight in the street below my apartment, and they're too drunk to actually hurt themselves, and so unsure as to why they're fighting in the first place that it becomes funny.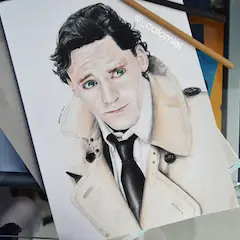 And to finish off the article, a personal FML maybe? "I was touching up some photos on my computer. Concentrated and inspired, I was doing things one after another, forgetting to regularly save my work. Photoshop crashed and my work disappeared. Of course, it didn't teach me a lesson because I've done the same thing several times since." A classic mistake that we can all empathise with.

I thank Calomiel for taking part, I love your illustrated FML. Next week we'll be on a helicopter, flying over a large city, telling everyone though a loudspeaker about big pharma and chem-trails and... No, only joking tinfoil-hat brigade. As if. Until next weekend, have fun, be excellent to each other and fight the power.

What about you? Think you've got talent and want to contribute to the illustrated FML? Send us an email to [email protected] but only send us your blog's address and a few samples of your work. No need to create an illustrated FML straight away.